Live at Other Music: No Age (Episode #2)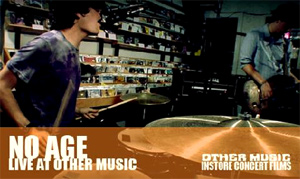 No sophomore slump here, our second edition in the in-store film series is also from CMJ 2007 (October 17), a truly insane performance from the incomparable No Age! We still didn't really have the kinks worked out of our system (will we ever?), and there was quite a bit of mayhem; whenever Dean cranked up that sampler, we blew the fancy movie lights, and when things got intense on stage (meaning, on the floor in the corner of the shop), the crowd would surge and start moshing in a way that was decidedly un-record-store-like. I really thought the fans would bring the whole p.a. down when they started crowd-surfing, but I dropped into my best approximation of a bouncer and knocked a few folks back into the pit like a man twice my size, never losing sight of the most important issue... that the Dig for Fire crew were getting it all on tape. Well they were, and this clip is just amazing. I think it really captures the spirit of No Age and, along with the great interview that Karen did crammed into our back stairway, you get some excellent insights into one of the more interesting punk rock bands we've seen in years. Enjoy!
–Josh Madell
This Week's Featured Download
Plush
Fed
Other Music Digital Exclusive!
Candlewick Lake
$9.99
Listen & Buy
What's that old saying? "Good things come to those with incredibly high standards that spend princely sums and exhaust record label patience while uniting all manner of session man in the pursuit of the perfect pop record?" If you're Liam Hayes, then that's definitely how the axiom goes. Active under the name Plush since the early 1990s, Hayes dropped a couple of lauded singles and a skeletal, piano-and-voice only album's worth of carefully plotted tunes before embarking on the creation of his career-defining masterpiece. Recorded over the course of a couple of years with the help of a few different engineers (including Steve Albini and John McEntire) and a veritable army of additional players, Hayes unleashed Fed in 2002 on Japanese label After Hours, only after domestic label Drag City reportedly bailed on the project for fear of its mounting costs (which, rumor has it, totaled somewhere in the low six-figure neighborhood).
Excessive? Just a bit. But damn it all if these fourteen tracks weren't worth the insane price tag and the countless hours Hayes spent obsessing over every last detail. Taking cues from classic tunesmiths like Burt Bacharach and archly sincere savants such as Harry Nilsson, mixed with a few faint echoes of Todd Rundgren, Plush tapped such unlikely cast members as Silk drummer Morris Jennings and famed producer Tom Tom MMLXXXIV for a suite of pure, baroque pop that few of his contemporaries would ever have the balls (or deep pockets and obsessive attention to detail) to try and touch. Tracks like "Blown Away" and "Greyhound Bus Station" balance sweetly sincere (and slightly self-deprecating) lyrics with gorgeous harmonies and shimmering horn and string arrangements that perfectly suit Hayes' limber piano and guitar work and lilting voice. The most potent pieces here, though, are the surprisingly somber ballads that pop up now and again, be it the languid stroll of the title track's lazy, loping accompaniment, or the simple acoustic lament of "Born Together." Still strangely unreleased on CD or vinyl in the United States, Plush's Fed is a true marvel of over-the-top lavishness, and all the better for it.
-Michael Crumsho