Live at Other Music: Tinariwen (Episode #3)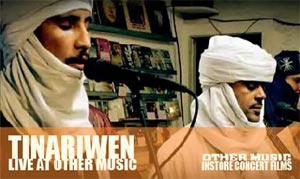 Tinariwen, live at Other Music! I gotta say, this one still throws me for a loop. I'm always thrilled to hang out with any of our favorite artists for an evening at the shop, and from the simple fact alone that we're located in the heart of downtown NYC, we're lucky enough to get to meet many of our heroes somewhat routinely. Yet Tinariwen were something special, definitely from a different world, rolling in here in their flowing robes, barely a word of English spoken between them (I conducted our interview through an interpreter in a free-flowing mixture of Tamashek and French), and a deep passion and intensity that seems to inhabit whatever space they enter. Anyway, we asked, they came, and they rocked the joint. The phone was ringing off the hook all day, the place was packed to the gills and we still had to turn a lot of you away at the door... sorry, but you can see it all now! I thought the group might scoff at our tiny p.a. and general low-tech setup, but they were the most easy-going and pro band I've seen in a long while, they just plugged in, sidled up to the mics and nailed it. Even without their spiritual leader Ibrahim Ag Alhabib in the house (the group's lineup is somewhat malleable, and Ibrahim is apparently not always up for their ongoing international trekking), Tinariwen put on one of the best shows these four walls have ever seen, and I'm so happy that we have this film to show the world!
-Josh Madell
This Week's Featured Downloads
Rail Band
Belle Epoque Vol. 1: Soundiata
Sterns
$17.99
Listen & Buy
First two-disc volume in a projected three-volume series devoted to the peak creative years (1970-1983) of the long running Malian super group, the Rail Band. The Rail Band were a state-sponsored ensemble set up and funded by the national railway to provide entertainment at the Buffet Hotel de la Gare Bamako. Their original singer was Salif Keita, an albino of noble descent who had to break the rules of his caste in order to step into the role of a griot. Possessing an impossibly beautiful voice, he is today one of the most famous Africans alive, but it was via the Rail Band that he originally came to prominence and arguably did the greatest work of his career. Always a guitar heavy band, they would adapt the melodic lines usually played on traditional Mandingo instruments like the kora and the balafon into virtuousic and serpentine patterns, while adding elements of Arabic, French, Cuban, and American pop. Their groundbreaking lead guitarist was Djelimady Tounkara, a sheer genius who could rival even the dazzling brilliance of Bembeya Jazz guitarist "Diamond Fingers" Diabate.
In 1972 they added a balafon and kora player named Mory Kante to the band, and it turned out that he was as thrilling a singer as he was an instrumentalist. A rivalry soon developed between Kante and Keita, with Keita departing the group shortly thereafter to join a rival band, Les Ambassadeours. Remarkably, the quality of the ensemble did not decline one bit, and Mory Kante has gone on to acquire fame on a level with Salif Keita. The Rail Band was constantly innovating, stretching the boundaries of their song lengths and influences, changing dialects to fit their audience, adding and stripping away members, horn parts, effects, and styles. They are one of my all time favorite African groups, and the LPs I own by them are amongst my prized possessions. Sterns is doing a great service by offering such an in-depth and essential overview of a group who deserves to be as known as practically any other African group or artist we've reviewed in the past 10 years.
-Michael Klausman
Various Artists
Authenticité - The Syliphone Years
Sterns
$17.99
Listen & Buy
Following Guinea's independence from French colonial rule in 1958, the government instituted an official cultural policy of arts development, where music, above all the arts, received extra attention -- in particular, music that celebrated the rich music tradition of West Africa. Songs that dealt with the topics of anti-imperialism/anti-colonization and African nationalism became anthems, and bands began to form all across the country. Large annual competitions were held and the winners would often become huge sensations, and were frequently nationalized by the government. During this time, the government also formed the Syliphone label to showcase this homegrown talent.
Culled from the Syliphone's wealth of releases, this two-disc compilation is a fantastic overview of the music from this period. Although there's a distinctly regional African aesthetic, you can clearly detect other influences, most prevalently Cuban jazz. It's not hard to hear the sound of cosmopolitan 1950s Havana rumba in songs like 22 Novembre Band's "Kourma," but thanks to the tight brass arrangements, syncopated drums and slippery guitar work, all combined with the infectious vocal deliveries, a unique brand of distinctly African jazz was borne. Pivi et les Balladins' "Samba" starts off with the shortest, urgent little guitar lick before a barrage of horns and pulsing drums jump in; soon after, a call-and-response between the vocals and horn opens up into a beautiful rhythm guitar and a muted electric organ solo. If it hadn't been for the liner notes, I wouldn't know when to place this song -- I hear highlife/Afrobeat, however, the keyboard work reminds me, at times, of American organ-fueled R&B. A joyful noise for sure! And lest we forget this is also dance music-of the highest order. Those of you who got the Bembeya Jazz National or Orchestra Baobab reissues from a few years back may have an idea of what to expect, but for the uninitiated this is an excellent introduction to the wealth of music from this small West African nation.
-Geoff Albores
African Virtuoses
The Classic Guinean Guitar Group
Sterns
$9.99
Listen & Buy
For many African music connoisseurs, Guinea has long been a virtual goldmine. And within Guinea it really doesn't get much better than the Diabate family. Heralded as the first family of African guitarists, the Diabates were instrumental in developing a unique single-note style based on using a plectrum rather than the thumb and index finger technique common throughout the continent. It was this style that helped to push the tide of popularity from the brass-based bands that were gaining momentum at the time, back to the stringed instruments in African dance bands.
These rare recordings made between 1970 and 1983 showcase this illustrious family in various incarnations. Entirely instrumental, the band is filled in with wonderful but understated percussion, conga, bass and kora players; but make no mistake, it's all about the sublime guitar work here. Primarily electric, the Diabates play guitar with such sensitivity and nuance that the tones tend to wash over you like a blanket of warm sound. The liner notes accurately compare this to some of the lush guitar work from Spain, Latin America or even the cosmopolitan sound of Django Reinhardt, but upon closer inspection you realize that the style is all their own. For those of you who already own the Authenticite compilation (reviewed above) or any of the Bembeya Jazz National works, you're sure to have an idea of what to expect. For those of you who haven't, this is truly a treat.
Geoff Albores
Geraldo Pino & the Heartbeats
Heavy Heavy Heavy
RetroAfric
$9.99
Listen & Buy
Geraldo Pino is one of the major unsung heroes of Afrobeat. He didn't invent it per se, but if it weren't for his music and influence, especially on a young Fela Kuti, it probably wouldn't exist. In Kuti's own words, "After seeing this Pino, I knew I had to get my s**t together. And quick!" Pino was a bandleader from Sierra Leone who was the first to put conventional American R&B arrangements and black power lyrics in African popular music. James Brown seems to be the biggest influence here. The rhythms are definitely more straightforward (think "Give It Up, Turn It Loose") and Pino has the same sort of call and response vocalizing that Brown had; but there is definitely more urgency (if that's possible) and the production is more raw, of course. All of his music has been very difficult to find, so this is a revelation of sorts, and a godsend to all fans of great black music.
-Duane Harriott