Label Spotlight: Hapna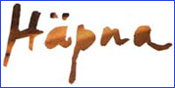 Swedish label Hapna began auspiciously in late 1999, and has since evolved into a consistently impressive imprint for experimental sounds that, more often than not, err on the sweet and gauzily melodic side of the spectrum (the occasional release by the likes of Pita notwithstanding, of course). Within that general parameter, these folks have helped establish the work of a pretty diverse group of their countrymen, be it in the carefully assembled and minimally stunning pastiches of Tape or the haunting and yet slyly impish work pursued by Sagor & Swing. Outside the confines of their own nation, Hapna has also released crucial works documenting similar strains of out-there performance in other countries. Perhaps most notably, they've helped to give an international presence to some wily Italian avantists, be it in Andrea Belfi's ethereal take on the concept of home-recordings, the post-rock deconstructions of 3/4hadbeeneliminated, or the crystalline guitar structures of Giuseppe Ielasi. Focusing on the home turf once again, Hapna presents two new releases that find a couple of their more established and long-running artists exploring all new terrain.
A Taste of Ra
Morning of My Life
Hapna
$9.99
Listen & Buy

Originally a shrouded pseudonym used to house his more left-field leaning work, singer-songwriter Nicolai Dunger's A Taste of Ra project has blossomed into a full-bodied folk beast over the course of a couple of great releases. Back again with Morning of My Life, Dunger once more gives the wildest impulses of his muse free reign, spreading his voice and prodigious instrumental talents over the course of a single, album-length burner. Beginning with the sound of piercing, multi-tracked horn drones, he gently opens himself up to a steadily growing barrage of downtrodden violins, skittering drums, fervent guitar playing, and his unmistakably passionate croon. Allowing himself ample space to roam unchecked, he builds his piece into waves of passionate harmony, holding everything together with a set of pipes that effortlessly break from low moan to fevered howl and back again. But later, after giving in to spare orchestral sweeps, Dunger flips the switch and segues into a pounding, bass-and-beat heavy rocker, ultimately carrying the disc out on some of the same notes with which he arrived. At times cutting like an unhinged Van Morrison jamming out with a punched up, rough and tumble backing band, the latest from Dunger's A Taste of Ra is easily his most inspired moment yet.
Eric Malmberg
Verklighet & Beat
Hapna
$9.99
Listen & Buy

As half of the aforementioned Sagor & Swing, organist Eric Malmberg explored keenly interwoven tapestries of ambient sound and near spiritual instrumental textures. Following up his much more skeletal solo disc from 2005, Den gattfulla manniskan, Malmberg presents Verklighet & Beat, a set of tunes that brilliantly expands his palette. Even with the added instrumentation, though, Malmberg's prowess behind a variety of different keyboards and electric pianos easily dominates the aural landscape here. Feuled by his familiar Hammond lines and some twee synths, tracks like "Till minne av Lilly Lindstrom" explore terrain that calls to mind a more space-aged variant on Florian Fricke's early Popul Vuh work. Other pieces, like the lazy lope of "Sondagskonsert," are more pastoral in their temperament, awash in gorgeous melodies and powerful strings. Even better are those pieces like "Ackordflodet och evigheten," all swinging rhythms that carry the layers of keys and distant vocals to a buoyant process, sounding like a severely funked-up Bo Hansson. And while it definitely is a shame that Sagor & Swing chose to bow out a couple of years ago, it's nice to know that Eric Malmberg seems pretty intent on keeping that group's playful flame alive, as clearly evidenced by the near sublimity of Verklighet & Beat.

-Michael Crumsho


Look for more releases from the Hapna catalog including the likes of Stephan Mathieu, Loren Connors & David Grubbs, Tape, and Hans Appelqvist, coming to Other Music Digital next month.