Live at Other Music: Toumani Diabate (Episode #9)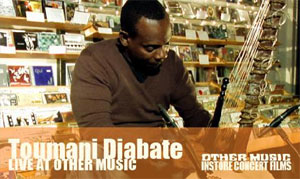 We try to keep mixing things up with our ongoing Live at Other Music series, featuring a broad selection of our favorite artists from a variety of genres, performing and chatting about their music and their inspirations, reflecting varied musical passions for the artists as well as all of us at Other Music. As such, we've seen a variety of different approaches to making music and how these artists fit into the broader community. Still, when we're lucky enough to host a musician with the singular vision and dedication of Malian griot and kora prodigy Toumani Diabate, it makes us all take pause. Diabate traces his musical heritage back 70 generations. His instrument, the kora, is more than 700 years old and is an integral part of his traditional culture, and this history is central to Diabate's music and his life. He is both a musician and a teacher, a traditionalist as well as an innovator. And while many in our circle may have first taken notice of Diabate from his recent appearance on Bjork's Volta album, or know his name from his Grammy-winning recordings with Ali Farka Toure, despite many high-profile and innovative collaborations, Diabate sees his primary mission as an educator and champion of traditional Malian culture. It was an honor to have him play for us at Other Music, and even more so to sit with Diabate and learn. The first film is centered around our interview with Diabate and is interspersed with highlights from his set. We've also included a second clip which features a full song performance. Both segments are truly stunning, we hope you enjoy.
-Josh Madell

Watch Toumani Diabate "Live at Other Music"»

Upcoming Live at Other Music Episodes:
May 2 - Taken by Trees
May 16 - Black Lips
May 30 - Blood on the Wall

Watch earlier episodes of Live at Other Music with White Williams, Richard Hawley, Celebration, Vampire Weekend, The Clean, Tinariwen, No Age, and St. Vincent

This Week's Featured Downloads
Label Feature: West End Records

West End Records was founded by seminal disco pioneer Mel Cheren in 1976, who sadly passed away last December. The label came to represent the NYC disco sound, and was one of the most important and influential dance labels in the world. We are so excited to offer a healthy chunk of their amazing discography on our digital site; here are a few of our personal faves. We'll start at the beginning with the very first West End release, "Sessomatto," a lovely piece of after-hours sleazy disco. The song would also become a piece of hip-hop history, living on as one of Kool Herc and Afrika Bambaataa's original breakbeats during their legendary South Bronx block parties.
Next up is Loose Joint's "Is It All Over My Face?". Probably one of the most famous dance tracks of all time, Arthur Russell and Steve D'Aquisto's classic tune was actually an uncompleted jam session that they gave to Larry Levan to remix and/or finish. Though Levan never completed the remix, they released it anyway, and some thirty years later the world is still "love dancing!" Another equally great floor-burner (though a much lesser known cut) from Russell and D'Aquisto's Loose Joints project is "Tell You (Today)." Carried by a loping disco bass line, celebratory horn blasts, cowbell and some whistling accenting the vocal melody, consider this tune the blueprint for that NYC neo-disco sound. Required listening for all fans of DFA productions, Optimo and the like...leftfield disco at its finest.
Tanna Gardner's "Heartbeat" is one of the first post-disco NYC dancefloor bombs of the '80s. This mid-tempo funk jam practically ushered in the roller-boogie era and provided a template for that singular sound. It's also considered one of the original emcee backing tracks for early rap stars like Melle Mel, Grandmaster Caz and Busy Bee. In contrast, Gardner's "When You Touch Me" is an epic, two-part sexy disco jam, a la "Love Hangover." The first half is a slow, sensual, quiet storm that suddenly breaks into 10 minutes of Paradise Garage-styled dancefloor ecstasy. Sparque's "Let's Go Dancin'" was another big Paradise Garage hit, propelled by Francois K's dubbed-out remix. Over the years, this excellent slice of slightly hyped-up boogie disco has continued to gain popularity, not to mention being a staple at Frankie Knuckle's warehouse parties and Ron Hardy's Music Box in Chicago, thereby influencing the Windy City's proto-house scene of the '80s.
Last but not least, Larry Levan's Classic West End Remixes. Really, the title is all you need to know. Levan was one of the most influential DJs of all time at one of the most influential clubs of all time, as well as being an in-house producer/remixer for this amazing label. This compilation is basically one-stop shopping for all of Levan's best-known tunes.
-Duane Harriott
Michael Moorcock & Deep Fix
New World's Fair
Esoteric
$9.99
Listen & Buy
It seems that there have been a ton of (mostly crappy) rock-n-roll novels over the years, but I can't think of too many novelists that have made the leap and actually fronted a band. Seriously, the only one I can recall off the top of my head is Stephen King's super group with Amy Tan (the Joy Luck Club) called the Rock Bottom Remainders, but I highly doubt we'll be seeing any of their albums in our bins any time soon. So major props to British anarcho sci-fi fantasy novelist Michael Moorcock for having pulled off a pretty fuggin' good rock n' roll LP back in the glammy halcyon days of 1975. I used to collect paperbacks of his Elric of Melnibone series when I was in middle school, and can still recall being mildly freaked by the weirdly androgynous looking dude on the covers I was supposed to be empathizing within my mind's eye. But now that I think about it, it seems rather likely that Ziggy Stardust probably ran around with Elric in his back pocket, assuming his pants weren't too tight, which they probably were.
Anyway, Moorcock was good buds with Hawkwind and he had the excellent sense to utilize them as his back-up band. You'd think that with a sci-fi novelist as a front man and rock cosmonauts Hawkwind as band, things would get ridiculously overblown, but they somehow managed to make a concise and fairly down to earth record, all things considered. It mostly reminds me of early Bowie and T-Rex, chugging glam rock populated with drug pushers, candy floss cowboys and sixteen-year-old doom girls with "death rattles in their throats." There's a novelist's flair for detail for you. It's an original album no doubt, but weirdly familiar, like how the old blues refrain "Alabama Bound" is transmuted here to "Valhalla Bound." I grew out of sci-fi, but I don't think I'll ever grow out of rock n' roll, and I gotta tell ya it feels pretty good to have Mr. Moorcock back in my life.
-Michael Klausman
Sugar Minott
Wicked Ago Feel It
Wackies
$9.99
Listen & Buy
Sugar Minott's Wicked Ago Feel It is another classic recorded at the Wackie's Studio in the Bronx with the notable production team of Lloyd "Bullwackies" Barnes, Douglas Levy and Junior Delahaye applying the shine. By 1984, when Wicked Ago Feel It was originally released, Lincoln Minott (a/k/a Sugar Minott) was already a significant name in Jamaican music having released a pair of LPs that many consider to be the first contemporary dancehall records, running the respected Black Roots label, and recording a string of hits that helped push Studio One back in the forefront. For a good percentage of his early-'80s work, Minott crossed over into the lovers rock territory, and here this style is most prevalent. True to the raw Wackie's signature sound (and accompanied by the main members of Itopia along with piano maestro Jackie Mittoo), the bass is deep with an occasional synth providing playful counter-melodies, a light touch of echo and crisp drums laying a heady but soulful foundation. The backing voices offer sensuous harmonies as Minott sings love songs laced with positive messages of Rastafarian hope and equality and some political undertones. The title track feels like an old spiritual put through a wonderful wash of dub, while "Good Thing Going," a Michael Jackson cover which had previously landed Minott a UK hit, is re-worked again Wackie's-style. (This record also includes the full-vocal versions of Minott's songs featured on the dub album African Roots Act 3.) Wicked Ago Feel It is another must-have reissue to come out of these amazing NY sessions. For those who haven't yet discovered this great era of roots and lovers rock, here is a great place to start!
-Gerald Hammill
Love Joys
Reggae Vibes
Wackies
$9.99
Listen & Buy
Another fine reggae reissue from Wackies/Basic Channel, Reggae Vibes was the Love Joy's first album. Like the band's other re-release (Lovers Rock) on this label, this is a collection of breezy, summery lovers rock and roots testimony. And while the vibe is airy, the rhythms are weighty -- the kind of heavy dubiness you have come to expect from a Wackies' production. Two cousins, Sonia and Claudette's beautiful interwoven vocals of harmonies and roots chanting are unfortunately a rarity in the male dominated world of reggae music. (Althea and Donna a noteworthy exception.) Recommended!
-Geoff Albores
Excepter
KA
Excepter
$9.99
Listen & Buy
Excepter's debut LP is finally available to the download world. Featuring former No Neck Blues Band's J.F. Ryan and Other Music's very own Dan Hougland, KA is a heavenly hellish miasma of bent-stretched vocals and a drawn-out assemblage of cosmic, but definite "gang-mentality" assaults. Things get rocking by track three, "Be Beyond Me," which throbs forward with an ominous bass beat and drone littered with skittering digital waste and unintelligible musing. Excepter takes its sweet time getting anywhere, but get there you shall. Also includes sonic appearance of UCLA Fine Arts grad candidate, Macrae Semans.
-Michael Klausman
Henry Flynt
Raga Electric
Locust Music
$9.99
Listen & Buy
Raga Electric/Experimental Music finds the audacious sonic and philosophical adventurer in some truly "out" territory. This disc reflects the tumultuous period of his development equally informed by his cavorting with Fluxus artists, philosophical and musical reaction against other downtown artists testing the limits of art and anti-art, and devotional obsession with Indian raga master Pandit Pran Nath. Raga Electric presents a difficult, but in the end, inspired listen, showcasing a musical maverick in an orgasmic ecstasy of curiosity and poetic explorations. Four tracks of savage, raging vocals form the core of this collection, with Flynt's ravaged voice racing up and down heretofore unknown scales, almost frightening in its seeming desperation and inspired in its purity suggesting the dada sound poetry of Kurt Schwitters infused with an American style, almost punk-rock urgency. Surrounding these guttural acrobatics are several guitar pieces that feature Flynt's better known strategy of infusing the genres of his fascination (hillbilly music and Indian/oriental song structures) into stirring hybrids and drawing subtle analogies between the seemingly disparate genres. This time, the gobbling vocals are added, suggesting made up Indian raga as sung by an Appalachian mountain man. The closing piece, a 13-minute screaming saxophone epic (Flynt's one and only experiment with the instrument) points to his interest in Coltrane and is a perfect sonic companion to the unaccompanied voice works that precede it.
-Matt Connors