Other Music Digital Affiliate Program
We are very excited to be launching our new Affiliate Program. You can earn money by sending your web traffic to Other Music Digital for downloads. Click here for more details.


Other Music Presents Scott Walker 30 Century Man Premiere Party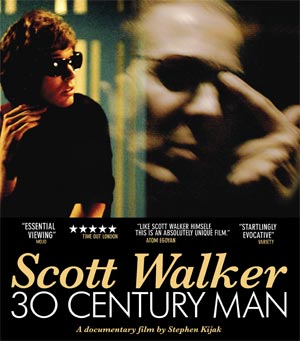 This Wednesday, December 17, the first ever documentary on the one and only Scott Walker begins its one-week run at New York City's IFC Center. (Preview the trailer here.) Released by Plexifilm, this intimate portrait of the enigmatic musician features rare archival footage as well as an insider's view of the making of 2006's The Drift, with interviews from admirers like David Bowie, Jarvis Cocker, Brian Eno, Radiohead, Johnny Marr, Richard Hawley, Alison Goldfrapp and Damon Albarn, as well as the man himself. To celebrate, Other Music is throwing a premiere party that night at K&M Bar, with OM DJs playing Scott Walker tunes and songs by the countless musicians that he's influenced, plus a special guest set from the film's director, Stephen Kijak, who will be previewing tracks from the upcoming Scott Walker tribute album he's producing with Lakeshore Records. We'll be raffling off records, posters and movie passes. Hope to see you there!

WEDNESDAY, DECEMBER 17:
SCOTT WALKER: 30 CENTURY MAN PREMIERE PARTY
K&M BAR: North 8th Street (at Roebling) Williamsburg
9PM to 1AM / No Cover / 21+ with ID

This Week's Featured Downloads

Anonymous 4
Christmas Music from Medieval Hungary
Harmonia Mundi
$9.99
Listen & Buy
This collection is about as far away in spirit as a listener could possibly get from the commercial juggernaut that is the Christmas industry -- although of course, I'm presently marketing it to you as the antidote to that mania. Regardless, if you had spent the weekend navigating crowds at a mall in Topeka, KS as I just did, then you'd probably be seeking a little peace in the austere tones of 12th Century Hungarian Christmas music as well. It's a bit of a miracle that this music is still with us at all, as Hungary was sacked in the 15th Century by Turks who systematically attempted to destroy any Christian liturgy and iconography they could find, and the music being performed here was part of a small percentage that was successfully smuggled out of the country by fleeing nuns. This really is a supremely beautiful collection of music that frequently appears to divine some intangible essence of Christmas, and it certainly operates on a higher spiritual plane than, oh say, "Jingle Bell Rock."
-Michael Klausman
William Basinski
Silent Night
2062
$9.99
Listen & Buy
Don't let the title fool you. It really works for any night of the year, and is apropos for long winter nights, when darkness seems endless, the wind constantly rattling windows as snow flutters by in stark, glorious patterns against the blackness. Created on his Voyetra 8 synthesizer, it's almost as if William Basinski misses those bone-chilling New York winters, trying to replicate it out in LA. High frequencies blow about, but drifts of warm tones slowly accumulate, wrapping the listener in the type of beatific bed that followers of the composer will instantly recognize for its radiance and gentle heat in the cold void of aural space.
-Adrian Burkholder
Wild Billy Childish and the Musicians of the British Empire
Christmas 1979
Damaged Goods
$9.99
Listen & Buy
For those whom Christmas brings conflicted feelings, I'd suggest the peculiar genius of that most prolific British artist , Wild Billy Childish. For Christmas 1979, released last year, he strikes the perfect balance between the celebratory and the derisory with his clattering and ecstatic brand of punk influenced garage rock. He's nothing if not audacious, refashioning a couple of classic tracks by the Who and Link Wray into Christmas anthems, penning a timely account of having holes in your pockets at Christmastime, as well as writing a harrowing yet somehow totally hilarious account of his 1979 Christmas when his father came home piss drunk, keeled over on his bed and delivered the last words he ever said, "Merry fucking Christmas to you all!"
-Michael Klausman
Willie Colon & Hector Lavoe
Asalto Navideņo - Deluxe Edition
Fania
$9.99
Listen & Buy
Recorded in 1971 and '73 and compiled together here in this deluxe edition, these two holiday-themed albums from these salsa legends are some of the most beloved recordings of the genre. From the gritty covers portraying Colon and Lavoe as urban Santas sneakin' down the chimney of a Bronx tenement, the records are Latino institutions in the households of many families this time of year. But this ain't a collection of ballads, these are scorchers meant to be blasted. These albums probably contain two of the most famous salsa tunes of all time, "La Murga" and "La Banda." If you're not familiar with these holiday classics or these artists, this is where you start. Classic stuff!
-Duane Harriott
Frightened Rabbit
It's Christmas So We'll Stop
Fat Cat Records
$1.99
Listen & Buy
Why does everyone fight at Christmas? Probably because they don't see each other for the rest of the year. Combine that with some of your uncle's finest moonshine and you're on the straight road to a black eye and a busted lip. Fat Cat's Pitchfork-friendly Frightened Rabbit know this only too well and have come up with an anthem for the modern age in "It's Christmas So We'll Stop." Following on from their rather great Midnight Organ Flight this shows the Scots might not be as dour as one would expect and for extra holiday cheer, they tack on an a cappella choral version as the b-side.
-John Twells
Jonathan Kane
The Little Drummer Boy
Table of the Elements
$6.99
Listen & Buy
A fifteen-minute performance of the holiday classic "Little Drummer Boy" might sound daunting, but when Jonathan Kane's version is done you just want to start it all over again. It's a typical Kane production, blending minimalism and melody, repetition and movement, and with a sweet simple riff like this, what you get is a truly great performance. The track starts with tight military snare drumming, and adds layers of guitar and "snow-drift deep" bass, warm and inviting. This record is as good as Kane's wonderful I Looked at the Sun, and I think even your mom might like it. It provides the aural equivalent of staring into a blizzard from the warmth of your front window, cup of hot buttered rum in hand -- hazy, hallucinogenic, disorienting, but embracing and warm.
-Josh Madell
Phil Kline
Unsilent Night
Cantaloupe Music
$9.99
Listen & Buy
This has got to be one of the least obviously Christmassy Christmas albums around, and despite this it somehow manages to capture the essence of the time of year. Since 1992 Phil Kline has gone caroling with friends, but instead of the usual collection of old classics and bad singing voices, the rag-tag band would arrive armed with boomboxes. This disc is made up of studio work and field recordings from the streets and blends all kinds of Christmas sound together, from distant Gregorian Chant to slowly chiming bells and it's all rather endearing. A resounding work of ambient loveliness, it's a far cry from any of the other Christmas records you'll hear this year -- or ever, no doubt.
-John Twells
Julian Koster
The Singing Saw at Christmastime
Merge Records
$5.99
Listen & Buy
Elephant 6-er Julian Koster (Neutral Milk Hotel, Music Tapes) brings us this set of holiday classics played with his instrument of choice, the singing saw. A far sparser endeavor than the outsider orchestrations of his Music Tapes, The Singing Saw at Christmastime showcases the tool-turned-instrument's eerie, lone quivering wail in new, chilly renditions of old favorites like "The First Noel," "Silent Night" and "Silver Bells."
-Molly Hamilton
Tralala
Falala-La-La... with Tralala
Audika Records
$2.99
Listen & Buy
We've tried to offer a diverse selection of holiday themed releases in this week's Digital Update, and Tralala's three-song EP from 2005 definitely lands on the fun side of this list's spectrum of music. Beginning with "Christmas Never Comes (When You're Alone)," the band's catchy "Leader of the Pack" instrumentation is augmented by sleigh bells, and the girls sound great, although the bittersweet sentiment might cause you to shed a tear or two in your eggnog. The romping "Holiday Hearts" picks up the pace, with naughty lines like "Let's skip the midnight mass/I'll make a clumsy pass" (I'm sure Tralala found nothing but coal in their stockings the year this came out) and then they send us off with the merry, fa-la-la filled rave-up "Everybody Christmastime."
-Gerald Hammill
Various Artists
I'll Stay 'Til After Christmas
Animal World
$9.99
Listen & Buy
Christmas compilations are an evil no man should suffer, but occasionally someone gets it right. Sufjan famously decked his halls a few years back, and Low still hold the award for bleakest Christmas record ever, but now it's time for a few other hip young things to pitch in. It's all for a good cause too -- the proceeds from the record roll out to those helpful chaps and chapettes at Amnesty International. With tracks from the really rather excellent Sally Shapiro, Blitzen Trapper, No Kids, Parenthetical Girls, Au Revoir Simone and many more, there shouldn't really be any reason not to blast this at your long-suffering family while stuffing your Christmas bird.
-John Twells
Various Artists
A Piano Christmas in the 1920s
Lyrichord
$9.99
Listen & Buy
Kind of a dodgy cover on this one, but the concept is excellent and the music is lovely. A Piano Christmas in the 1920s salvages a batch of Christmas themed player-piano rolls from oblivion, whose each note was once played by some long forgotten artist from early last century, allowing the modern listener to hear ghost's of Christmas' past, if you will. I was actually rather surprised at how schmaltz-less this collection is, most of the performances are very restrained and deeply felt, even nearly meditative at times. Entirely non-distracting and pleasant, this one could possibly be the perfect early morning Christmas listen, and it's an album I'll be filing near my John Fahey's Christmas LPs.
-Michael Klausman
Various Artists
Trojan Christmas Box Set
Trojan Records
$18.99
Listen & Buy
Most of us aren't gonna be lucky enough to spend a sun-splashed Christmas in the tropics, so this could be the next best thing: 50(!) reggae holiday songs culled from the mighty vaults of Trojan. No matter what style of reggae is your poison, there's a little something for everyone. My faves include the rocksteady burn of "Merry Merry Christmas" by Alton Ellis and the Granville Williams Orchestra's steel-toed stomp of "Santa Claus is Ska-ing to Town," not to mention the doo-wop ballad stylings of "Christmas Day" by Desmond Dekker, which kinda left me a lil' misty in the eyes. The collection also collects strong Christmas cuts from Yellowman, Aggravators, the Maytals and more.
--Duane Harriott
Various Artists
A Vee-Jay Christmas
Vee-Jay Records
$9.99
Listen & Buy
It's nice to see this album available as a download. I remember this record being played at my grandparent's house around this time of year when I was young. Based in the Windy City, the groundbreaking Vee-Jay Records was the first black-owned American label whose Chicago blues and gospel output was a major inspiration on the British invasion bands of the sixties. This classic collection of tunes features artist like Jerry Butler, Five Blind Boys and others doing bluesy gospel versions of all your holiday favorites. Highlights include the Swan Silvertones' stunning "Silent Night" and the high-steppin' "Mary's Boy Child" by the Gospel Clefs. Really quality, traditional and soulful takes abound in this collection.
-Duane Harriott
The Waitresses
Christmas Wrapping EP
ZE Records
$2.99
Listen & Buy
This tongue-in-cheek parody of Kurtis Blow's "Christmas Rapping" has become a bona fide new wave classic. Lead Singer Patty Donahue's deadpan take on attempting to boycott holiday madness has become THE carol of the hip and slightly jaded. This tune actually has one of my favorite horn riffs of all time and apparently it was a Mudd Club classic too. A great tune from an underrated band, but do yourself a favor and stay away from the Spice Girls cover!
-Duane Harriott
The Watersons
Frost and Fire: A Calendar of Ritual and Magical Songs
Topic
$9.99
Listen & Buy
This isn't a Christmas album per se. It's actually a concept album regarding the changing of the seasons, but it does have one the most haunting and compelling carols I've ever heard, "Christmas Is Now Drawing Near at Hand." According to A.L. Llyod, it dates back to at least the 16th century and has long been popular amongst gypsies and beggars at Christmastime. It's magically sung here by Lal Waterson, in a way that seems to even hint at the earlier, pagan origins of the holiday. The ultimate theme, however, will be familiar to any child who has ever received coal in their stocking, as Waterson sings:

Little children learn to curse and swear
And can't rehearse one word of godly prayer
Oh teach them better, oh teach them to rely
On Christ the sinner's friend who reigns on high
-Michael Klausman
The Wedding Present
Holly Jolly Hollywood
Vibrant
$2.99
Listen & Buy
They might not be offering the kind of Present you'd expect this time of year, but C86's most unrelenting survivors have returned bearing festive gifts. While they no longer have the fresh-faced charm they might have had "back in the day" it's still nice to give the Wedding Present a spin whatever the band deliver -- even if it's a themed Christmas ditty. Saying that, they do a fabulous job of avoiding the trappings of the blighted genre and don't lose any credibility in the process; it's good Christmas music. Fancy that.
-John Twells
Various Artists
ZE Christmas Album
ZE Records
$9.99
Listen & Buy
This late-'70s/early-'80s mutant disco label put out this collection of leftfield Xmas tunes from the who's who of Lower East Side post-punk/funk luminaries. None of it comes off trite and we do get the Waitresses' "Chrismas Wrapping" (reviewed above). Other highlights include Suicide's "Hey Lord," August Darnell's (a/k/a Kid Creole) "Christmas on Riverside Drive," as well as other great songs by Christina, James Black and Material.
-Duane Harriott