Live at Other Music: Vampire Weekend (Episode #5)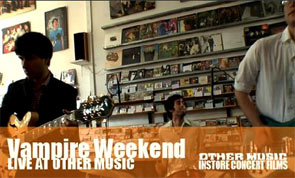 We are very pleased to present the latest addition of our Live at Other Music series, featuring a current hometown favorite who seem poised to take over the world, Vampire Weekend. There has been so much talk and hype about this band over the last six months, it's been dizzying for a fan and I can only imagine what it's been like for the group! When we first took notice of these guys last year they were playing small gigs around town for their Columbia friends as they finished school and finished their home-recorded demos (which now make up the bulk of their debut album on XL). Their self-released EP, launched exclusively here on othermusic.com last June, quickly became our best-selling release ever on the site, and the band was noticed by tastemakers the world over, from the smallest blogs to the New York Times. With their debut album finally dropping on Tuesday, you can see these guys everywhere, from MTV (we saw the "A-Punk" video sandwiched between 50 Cent and Jessica Simpson... really!), to major magazine covers and major concert stages around the world. This in-store was shot last October during CMJ, one of our very first video productions, and caught the band just as their star was on the rise.
Enjoy the film, and when you buy their great self-titled album from our Digital site (available this Tuesday, January 29th) you will get an EXCLUSIVE FREE BONUS TRACK from the in-store, a great version of "Bryn," recorded Live at Other Music.
-Josh Madell
Watch earlier episodes of Live at Other Music with The Clean, Tinariwen, No Age, and St. Vincent
This Week's Featured Downloads
Nemeth
Film
Other Music Digital Exclusive
Thrill Jockey Records
$9.99
Listen & Buy
Best known for his work in Austrian electro-acoustic trio Radian, Stefan Nemeth has also made a name for himself in avant-electronic circles, collaborating with names like Fennesz and Florian Hecker, as well as scoring short films and experimental videos. This, his first solo album, was born out of an idea he had of reworking some of his arrangements for films by Dariusz Kowalski, Lotte Schreiber and Anu Pennanen into music that could stand on its own, without the visuals with which they were originally created for. Like Radian, Nemeth uses both electronic and acoustic sources and blurs the line between the two, and what results is something that's disorienting-ly organic, right down to the digital hiss. Opening the album with a previously unheard track from a film about Brasilia that Nemeth himself is still constructing, "Via L4-Norte" is deceptively the most structured piece in this collection, with the light rhythm of a trap set providing a steady foundation for the chiming harmonics of an electric guitar and sustained processed tones. From there, Film eases into more abstract territory. "Field" washes over the speakers like dark storm clouds coming towards you over the horizon, Radian drummer Martin Brandlmayr providing the slow circular pulse as Nemeth layers ominous, rumbling tones and sustained feedback. The piece eventually deconstructs into a collage of field recordings and finally lands in a free-floating Fennesz/Whitman-esque bed of ambient digital textures. Although extremely short compared to the rest of the material on Film, "Soprus" is, for lack of a better descriptor, the most cinematic of the pieces, as crystalline tones fade in and out of the light, poly-rhythmic clusters of piano notes -- the aural equivalent of raindrops rippling a puddle. Contrary to the fact that these six pieces were originally created for film scores, this is music best listened to with your eyes closed, and imagination open wide. Recommended.
-Gerald Hammill
Piero Umiliani
Angeli Bianchi ... Angeli Neri
Easy Tempo
$9.99
Listen & Buy
Though best known for writing the Benny Hill sex-romp and Muppet show anthem "Mah Na Mah Na," this Italian composer was also responsible for scoring many late-'60/early-'70s European soft porn and go-go films. These days, Piero Umiliani's music is heralded and emulated by producers like David Holmes, Dangermouse and Portishead's Geoff Barrow for the slinky, groove-laden Euro jazz nature of many of his best soundtracks. Angeli Bianchi ... Angeli Neri is definitely one of Umiliani's best film scores, and we hear him stretching out a bit with excellent results. There's a darker tone to the pieces, utilizing panned strings, harpsichords and disembodied Morriconesque vocals. There's also a strong psych-rock influence throughout. Tracks like "Now I'm on My Own" and "The City Life" feature ethereal male/female vocals evoking a bit of a Curt Boettcher-produced Association vibe. Excellent!!!
-Duane Harriott
The Battle of Land and Sea
The Battle of Land and Sea
Notenuf Records
$9.99
Listen & Buy
Damn, if this isn't a record that just quietly creeps up on you and takes your brain hostage! At this point, Portland, OR duo the Battle of Land and Sea are probably the sole reason for me holding on to this neo-folk hangover. Seriously, in a day when just about anyone and everyone who knows their way around a G, C and D chord is putting out a CD, comes this too short of an album that reminds me of how powerful and lingering a good, simple song can be, as long as it's sung with a little honest emotion and a lot of restraint. Albums don't get much sparser than this, just the voice and six-string strums of Sara O'Shura and some icy guitar work from Joshua Canny. Songs like "Saltwater Queen" and "Lady" call to mind Mazzy Star unplugged, only here the generous dose of reverb on the mix isn't about druggy atmosphere but rather daydream melancholy. Surprisingly affecting is their cover of "Harden My Heart" by early-'80s chart toppers Quarterflash, in which O'Shura changes the FM radio melodrama of the original into an intimate confessional and in turn, one-ups Cat Power's sultry take on the Rolling Stones' "Satisfaction."
-Gerald Hammill