Live at Other Music Special Edition
Backstage with Other Music: Stephin Merritt of Magnetic Fields (Episode #1)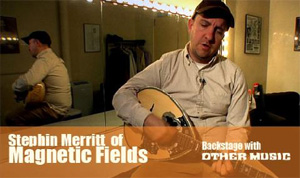 We had hoped to host the Magnetic Fields in the shop when they were in town supporting their recent pop masterpiece Distortion, but considering how rare their performances are these days, we were not surprised when the band politely declined. But we were THRILLED when Stephin Merritt invited Other Music and our friends, Dig for Fire, to drop by the green room at their Town Hall stand for some relaxed small talk and solo performances of "The Nun's Litany" off of Distortion, and "This Little Ukulele," from Merritt's soundtrack for Eban & Charley. Even a record clerk has to step out now and then, and we hope you enjoy the two-part premiere of Backstage with Other Music.
-Josh Madell
Watch Stephin Merritt "Backstage with Other Music"»
Listen and Buy the Magnetic Fields on Other Music Digital»
Produced by Dig for Fire [www.digforfire.tv] »
Watch earlier episodes of Live at Other Music with Antipop Consortium, The Dirtbombs, My Brightest Diamond, Blood on the Wall, Black Lips, Taken By Trees, Toumani Diabate, White Williams, Richard Hawley, Celebration, Vampire Weekend, The Clean, Tinariwen, No Age, and St. Vincent

This Week's Free Song Download

David Vandervelde
I Will Be Fine
Secretly Canadian
$0.00!
Listen & Download
FREE SONG DOWNLOAD of "I Will Be Fine" by David Vandervelde off of his upcoming album, Waiting for the Sunrise (out August 5th on Secretly Canadian). After relocating from Chicago to Brooklyn, Vandervelde finally settled (or not) and wrote his second full-length. He's ditched the glammy T-Rex leanings of the debut for a rootsier approach, with great sunbleached folk-rockers and emotional dusty ballads. More focused and mature, Waiting for the Sunrise is a perfect end of Summer/Fall album.

This Week's Featured Downloads

OOIOO
EYE Remix
Thrill Jockey Records
$3.99
Listen & Buy
Boredoms frontman/general superhero EYE mines material from OOIOO's latest, Taiga, for two awesome, predictably-unpredictable dance tracks on this new single. Taiga's righteous feminine thunder is reworked into something sorta house-y and marginally less tribal, with EYE filter-sweeping and disco-beating across Yoshimi and Co's awesome, cosmic call-and-response vocal rituals, throwing down skittering beats and ring-modulated synth sequences along the way. "Mash-up" might be a more fitting term than "remix." Those familiar with any of the man's previous DJ or remix work will know what to expect. A far cry from both the legendary sun-worship of Boredoms and OOIOO's sublime girl-Kraut, though certainly a necessity for those who bow down before either. For those unhep, a great and comparatively-cheap introduction to EYE's solo stuff, and to the perhaps-underrated world of OOIOO! The EP also includes the two original Taiga tracks ("UMO" and "UMA") mined for remix purposes.
-Aaron Kaplan
Broken Social Scene Presents: Brendan Canning
Something for All of Us...
Arts & Crafts
$9.99
Listen & Buy
Perhaps it makes perfect sense that the Broken Social Scene collective would be fracturing into a series of "solo" affairs; how could a group this diverse and ambitious really hold together anyway, with so many personalities and songwriters? And this is even before you factor in the Feist effect. Brendan Canning's Something for All of Us... is the second of the BSS Presents series, following last year's Kevin Drew release. If this sprawling group has a core, it would be Drew and Canning, who were essentially a duo when they recorded the band's 2001 debut Feel Good Lost, and have remained at the center of the revolving cast that is BSS. And as on Drew's album, Canning's record features a large percentage of that cast in supporting roles.
No surprises there, but what IS a bit surprising, perhaps, is that Something for All of Us..., far more than Drew's album, comes off like a great unheard Broken Social Scene album, and affirms Canning's central role in the group. Canning has been just an occasional frontman for the band, but this album makes it clear that his vision and songwriting have been at the group's heart all along; this excellent new record is probably the closest thing I've heard to Broken Social Scene's You Forgot It in People. As on that 2002 classic, Something for All of Us... filters '90's icons Dinosaur Jr. and Sonic Youth through some sort of Technicolor smoke machine, and then throws a few curve-balls at times with bubbly electronic rhythms, soaring orchestrations and a few other nice surprises.
-Josh Madell
Faun Fables
A Table Forgotten
Drag City
$3.99
Listen & Buy
Dawn McCarthy and Nils Frykdahl return with much-anticipated new material as Faun Fables. The four songs that comprise A Table Forgotten form a connected narrative based on the sanctity of the home, and in keeping one's life warm with family, friends, and celebration. Beautiful, fragile folk creeps like ivy around McCarthy's unique, strong voice, leading listeners all throughout the home these songs create. A false sense of security is built up over the first three tracks, until "Winter Sleep" lands with a thud in your lap, an eerie and discomforting shanty with a cold, sinuous grasp around your throat.
-Doug Mosurock
Chairlift
Does You Inspire You
Kanine Records
$9.99
Listen & Buy
I first saw Chairlift about a year-and-a-half ago, not long after the trio had picked up from their hometown of Boulder, CO and headed east to start a new life in Brooklyn. I remember being totally drawn into the band's folky, electronic-tinged pop songs and singer Caroline Polachek possessing the pipes of a young, opera-trained Chan Marshall. While Chairlift hadn't quite blossomed, they were about to, and soon after their name started appearing on frequent bills with groups like MGMT, YACHT and Yeasayer. Now comes their first full-length, Does You Inspire You, which certainly is a much more assured and textured affair than their early live shows. On record, the electronic production is a lot more prevalent and, mirroring the band members' art school pedigree, tracks like "Planet Health" and "Evident Utensil" could arguably trace some lineage back to Kate Bush, though Chairlift balances the mysterious with playful, un-pretentious imagery -- the aforementioned "Evident Utensil" is a song about pencils. One of my favorite tracks, "Bruises," is as lilting as any Au Revoir Simone tune (although the guys outnumber the girls 2 to 1 in Chairlift), with its bouncy Casio beat and Polachek's gentle heartbreak yearning of "I tried to do hand stands for you / but every time I fell for you / I'm permanently black and blue."
While much of Does You Inspire You buzzes with synthesizer pads, the band doesn't stray too far into Electroland with Patrick Wimberly drumming atop the digital beats, as well as the human accompaniment of strings, bells, vibraphone and pedal steel. Near the record's end, Chairlift throw technology out the window with album highlight "Don't Give a Damn," a beautifully fragile, reverb-tinged Western ballad in which Polachek and guitarist Aaron Pfenning's breathy duet is soon edged out by a ghostly choir of voices. Currently only available as a download until the CD's release in late October, Does You Inspire You is wholly unique to what we've come to expect out of Brooklyn. Chairlift is currently on tour with Ariel Pink, a brilliantly head-scratching pairing; so if they pull through your town, don't miss them.
-Gerald Hammill
Azeda Booth
In Flesh Tones
Absolutely Kosher
$9.99
Listen & Buy
Straight outta Calgary, Azeda Booth has put together a debut album that is already receiving deserved comparisons to Sigur Ros, Mum, and Boards of Canada. The sounds on In Flesh Tones are assuredly ambient, even though tribal drums charge and anxiously insecure vocals pulse from deep within the mix of their sonic textures. The exclusively falsetto, lyrical meanderings are pulp with a sense of pride, that, when in cahoots with certain percussive stampedes, lend an epic vibe to this otherwise mellow experience. Also at play here are some electronic elements that play like underwater explorations on top of others that somehow make crackling dissonance feel downright therapeutic. Altogether, this is a strikingly organic and graceful collection of dreamscapes that will appeal to any fans of electronic relaxation.
- Max Gray
Byard Lancaster
Personal Testimony (Then and Now)
Porter Records
$9.99
Listen & Buy
This new and appended reissue of 1979's Personal Testimony shows multi-instrumentalist Byard Lancaster at both his most intimate and most complex. Lancaster has shared the stage and studio with an eclectic mix of heavyweights including Sun Ra, Sonny Sharrock, Bill Laswell, Karl Berger, Khan Jamal, and Sunny Murray. Personal Testimony, however, strips away any outside influence by presenting the one-man-band formula in a somewhat new way. Across these 15 pieces (six of which are new recordings from earlier this year), Lancaster plays a multitude of instruments (reed, whistles, voice, flutes, keyboards, piano, and even a sampler) and multi-tracks himself to create layers of sound. But he leaves more than enough space so that each track is present, clear and valued. His multi-tracking helps the compositions form shapes and grow, much like the human overdub work of Rahsaan Roland Kirk. Lancaster connects various genres in these sparse compositions, from African and Asian influences to blues and soul's melody and traditions. The overall sound feels like the lonely street musician playing to an empty street, though Lancaster has enough skill and talent to engage even the most jaded passerby. Call it minimal free jazz, spiritual experimental, or abstract blues, it's all a testament to one man's soulful truth.
-Daniel Givens
Arbouretum / Pontiak
Kale
Thrill Jockey Records
$9.99
Listen & Buy
The split album -- mainstay of '90s post-hardcore acts -- gets a reworking with these two kindred spirits, working both sides of rough-hewn Americana. Baltimore's Arbouretum has a few releases under its belt, and their offerings here continue their slow, gorgeous path along a shambling yet triumphant roots-rock narrative, blessed with the wise, nuanced vocals of Dave Heumann (Human Bell). Virginia's Pontiak turns it up and flies the flannel in some scorched-earth Southern rock epics. Both groups turn in a cover by John Cale (Arbouretum do "Buffalo Ballet" its weary best, while Pontiak attacks "The Endless Plain of Fortune" with weedy, scraggly, Crazy Horse-style aggression).
-Doug Mosurock