Live at Other Music: My Brightest Diamond (Episode #13)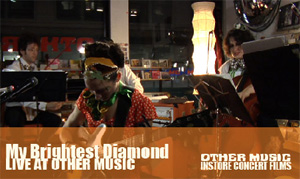 Shara Worden first came to the attention of the masses as a collaborator of Sufjan Stevens on his Illinoise album and tour, but in her own right this classically-trained singer and talented multi-instrumentalist has gotten much acclaim as My Brightest Diamond, a shifting orchestral-pop experiment revolving around her intensely personal songs and stunning voice. During a record-breaking heat wave this week, and on the eve of the release of MBD's second full-length, A Thousand Shark's Teeth (out next Tuesday, June 17 on Asthmatic Kitty), Shara performed a set of the new songs with just her guitar, voice, and string quartet, and we were mesmerized.
-Josh Madell
Watch My Brightest Diamond "Live at Other Music"»
Listen and Buy My Brightest Diamond on Other Music Digital»
Produced by Dig for Fire [www.digforfire.tv] »
Upcoming Live at Other Music Episodes:
June 27- The Dirtbombs
Watch earlier episodes of Live at Other Music with Blood on the Wall, Black Lips, Taken By Trees, Toumani Diabate, White Williams, Richard Hawley, Celebration, Vampire Weekend, The Clean, Tinariwen, No Age, and St. Vincent

This Week's Free Song Download

King Khan and the Shrines
Burnin' Inside
Vice Records
$0.00!
Listen & Download
FREE SONG DOWNLOAD of "Burnin' Inside," from The Supreme Genius of King Khan and the Shrines, out June 17th on Vice. Scorchin' hot sounds here by King Khan in his full-band incarnation: Stonesy swagger, horns, and a two-fingered punk rock approach. The Supreme Genius compiles the best of KK and the Shrines albums, and the best in contemporary rock 'n' roll period. Sweet salvation. Guaranteed to make you believe again.

This Week's Featured Downloads

Nico Muhly
Mothertongue
Brassland
$9.99
Listen & Buy
At the tender age of 20-something, Nico Muhly is already being hailed by many as the great white hope of modern composition. His ever-growing resume' includes original orchestral compositions commissioned by everyone from the Boston Pops to the American Ballet Theater, premieres at Carnegie Hall and the Whitney Museum, as well as more pop-minded collaborations with the likes of Bjork, Antony, Rufus Wainwright, the National, Will Oldham (and so many more), not to mention a longtime association with Phillip Glass. The follow-up to 2006's critically lauded Speaks Volumes, Mothertongue is Muhly's second proper solo effort, released here in the US on the Brassland imprint and in the rest of the world on Iceland's Bedroom Community, whose label head, producer Valgeir Sigurosson, is also the driving force behind the album. The record showcases three new Muhly compositions for voice and various instrumentation from orchestra to harpsichord to banjo to buttered toast, and while some of the reference points are obvious (Glass and Steve Reich immediately come to mind), this is a mature and wonderful album with a personality all its own.
The Mothertongue suite features mezzo-soprano singer Abigail Fischer reeling off a hallucinogenic series of the half-remembered digits that are life's detritus (e.g. phone numbers and serial numbers) while seemingly random state and city names from various countries are meticulously sung in shifting formations and with increasing and shifting density, but the flow throughout the four movements, and the interplay between Fischer's voice and the traditional orchestral instrumentation is positively hypnotic. The second piece, "Wonders," is based on a 17th-century madrigal, and features the Icelandic artist Helgi Hrafn Jonsson singing and playing trombone. Her vocals are much more earthy and the piece plays off the ancient song-form to create a mood that is out of time, which is taken to its logical conclusion on the album-closing "The Only Tune," based on an old-time murder ballad, and featuring fellow Bedroom Community bard and longtime Muhly collaborator Sam Amidon's haunting folkie vocal and banjo. Nico Muhly has more than lived up to growing expectations on this epic sophomore release, with three wonderful new compositions that not only thrill in their own right, but combine beautifully for an emotional and truly thought-provoking album that leaves the listener elated and satisfied.
-Josh Madell
Current 93
Black Ships Heat the Dancefloor
Durtro Jnana
$3.99
Listen & Buy
Last year, in the world of Current 93, Black Ships Ate the Sky, and here the Black Ships fittingly "(H)eat the Dance Floor," as the title track from that LP is reworked three times on this supplemental remix EP. Split evenly at two tracks apiece by two artists -- JG Thirwell and Matmos, respectively -- the EP is a drastic take on David Tibet's angsty and emotional delivery. Thirwell, man behind industrial legends Foetus, delivers on a two part industrial take, split into a wordless version and a version wherein the title phrase is looped in a manner that is both bleak and insidiously catchy. Matmos' take is an electro boogie track, replete with handclaps, feeling like something from The Rose Has Teeth LP. Matmos chose to heavily feature Tibet's passionate, near-raving soliloquy, begging for "deliverance from myself," and it is as emotionally apocalyptic as the original. A respite from the rest of the EP, Matmos close it out with a version of "The Beautiful Dancing Dust," originally a 57 second piano piece with vocals by Antony Hagerty. Sound like a good platform for some Matmos magic? Indeed.
-Josiah Wolfson
Basil Kirchin
Quantum
Trunk Records
$9.99
Listen & Buy
After well over three decades of relative obscurity -- Kirchin released two extremely hard to find records in the early '70s for Columbia/EMI and Island -- England's Trunk records has released Quantum: A Journey Through Sound in Two Parts, a recent reworking of material from the same time period. Namedropped as an influence by everyone from Brian Eno to Matmos, Kirchen's individualistic blend of field recordings of birds and mammals, free improvisation (including Evan Parker and Kenny Wheeler and what sounds like Derek Bailey, although he is not credited in the liner notes), the voice of his wife Esther (which fluctuates between whisper and scream) and other concrete and synthesized sounds is even more mysterious than the lack of specific information concerning his work. While at first the juxtaposition of different elements could come across as disorienting or haphazard, Kirchen achieves some truly magical moments when these often disparate elements transform from mere bric-a-brac to create singular and bizarre relationships quite unlike anything these ears have ever heard. What I can only imagine is the low growl of some sort of feline (a tiger or lion perhaps?) sits perfectly alongside a fractured guitar improvisation while Evan Parker's circular breathing is nicely complemented by the fluttering of tropical birds. A "journey through sound" in the purest sense. Recommended for adventurous types.
-Koen Holtkamp
John Matthisas
Stories from the Watercooler
Counter Records
$9.99
Listen & Buy
John Matthias swims so many streams of music that Tales from the Water Cooler is a veritable ocean of clever experiments and emotional intensity. The album art is a good start: designed by Radiohead's visual designer Stanley Donwood, a University friend of Matthias', the art depicts a run of the mill signifier of the water cooler bursting open in a tidal wave. Matthias crafts honest, modern folk tales told in his cool-throated voice -- a tense, emotional, yet deadpan delivery -- over intricately arranged tracks that often begin as bedroom blues and end in otherworldly territory, ingenuity busting the seams of familiar structures. Actually, at times the record can sound like a down to earth Radiohead, and perhaps it's worth knowing that Matthias was also pals with and collaborated with Thome Yorke at Exeter University. Featuring but in no way limited to lush violins, gritty kitchen sink percussion, timely electronics, banjo, et al., Matthias is one of those rare artists that is both a studio/production wizard and an honest, inspired songwriter.
-Josiah Wolfson
Mogwai
Young Team
Chemikal Underground
$9.99
Listen & Buy
Here's the remastered version of Mogwai's classic Young Team (which spawned a million pale imitators) from 1997, and while one normally needs a classically trained audiophile's ear to tell the difference, this sounds HUGE. Much louder and much sharper, proving, a second time around, that they are the masters of loud bit/quiet bit. Additionally, it comes with a bonus disc of rarities, including a great Spacemen 3 cover, and live material.
Wooden Shjips
Vol. 1
Holy Mountain
$9.99
Listen & Buy
Vol. 1, a roundup of Wooden Shjips' early singles, is far dirtier (read: grimy as a mudbath), than their eponymous full-length, but actually hangs tighter, played with more confidence than the full-length. A harder-edged approach seals the compositions into urgent but airtight one-note onslaughts, and exchanges the Doorsy, California star-gazing of their debut album for a grinding rhythmic machinery. In the intoxicating repetitions, one often feels as though the wheels of Wooden Shjips' are about to come unhinged at any moment, as the levels peak at every possible frequency, but the beat stays strong in a heavy, Krautrock-ish thud that supports the hypnotic swirl and propels the hidden frequencies. If the Velvet Underground's "Sister Ray" had a birthed a whole band, the Wooden Shjips of Vol. 1 could very well have been that band.
-Josiah Wolfson