SXSW, All Roads Lead To Austin (Best of: Show 3)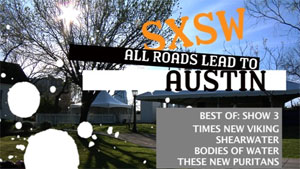 Welcome to the final episode of our SXSW 2008 coverage, featuring additional tracks and interviews with Times New Viking, Shearwater, Bodies of Water and These New Puritans. Thanks for watching and we hope you've enjoyed viewing the series as much as we've enjoyed making it! This was our first trip to SXSW, and with our good friends Dig For Fire in tow, it was a wonderful experience from start to finish. I need to pause here to thank all the bands and labels who helped us realize our dream of creating an Other Music oasis at SXSW, and also thank WNYU, the French Legation Museum, the Ice Cream Man, and of course Dig For Fire, without whom we could not be presenting these great films. And to all the friends and fans who came out to both of our parties, thanks to you... see you next year!
-Josh Madell

UPCOMING "LIVE AT OTHER MUSIC" FILM PREMIERES:
April 18: Toumani Diabate
May 2: Taken by Trees
May 16: Blood on the Wall
May 30: Black Lips


Boredoms Other Music In-Store: Monday, March 31!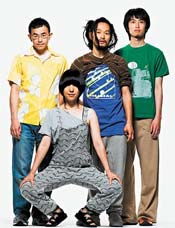 Other Music is very excited to be hosting an in-store performance with Japan's legendary Boredoms, who will be playing in the round on the shop floor this Monday, March 31st!! As you can imagine, space will be extremely limited, so starting today (Friday) at 6:00PM, we're going to give single-person passes to the first 50 people who come into the shop and purchase their new album Super Roots 9, out on Thrill Jockey (one CD per customer -- sorry, no web orders). Your receipt will be your ticket, which you'll need to have with you to gain entrance on Monday night.

BOREDOMS IN-STORE PERFORMANCE
Monday, March 31@ 9:00 P.M.
Other Music: 15 East 4th Street NYC
Free with Purchase of Super Roots 9
First 50 customers - in store sales only.
Sorry, no web orders and no walk-ups day of
show. Ticket holders only.



This Week's Featured Downloads
Four Tet
Ringer EP
Other Music Digital Exclusive Advance
Domino Recording Co
$3.99
Listen & Buy
Taking a break from recent collaborations with jazz drummer Steve Reid, Kieran Hebden delivers his first new Four Tet material since '05's Everything Ecstatic. Having carved out his own niche in electronica through his use of organic sounds and crisp percussive breaks, this four song EP definitely marks a change of direction for Hebden. It's immediately apparent in the opening cut, a sprawling 10-plus-minute track that completely eschews any sign of folk-tronica, "Ringer" instead gliding across the subtle 4/4 pulse of a kick drum with looping synth arppegiations that are one part "E2-E4" and one part Blade Runner. It's not until about eight minutes in that a drum kit appears from nowhere only to be swallowed back into the black hole of the kosmische sounds a few moments later. The first minute or two of "Ribbons" wouldn't sound out of place on a Kompakt Total disc, Hebden experimenting with minimal techno, only his version is much warmer than what one normally associates with the genre, with rippling synths providing the foundation for layers of staccato counter-melodies. "Swimmer" follows a similar though much more spacious and droney tact, while closing track "Wing Body Wing" finds Hebden integrating elements of his work with Reid, layering jazzy poly-rhythms atop the bubbling electronics and dance beats. No telling yet whether this EP is the sign of things to come or merely a chance for the producer/musician to spread his wings a little before his next proper Four Tet release; either way, it's an exciting and highly listenable detour for Hebden.
-Gerald Hammill
The Weird Weeds
I Miss This
Autobus Records
$9.99
Listen & Buy
We are excited to welcome Austin's Autobus Records to the digital site, and to feature I Miss This, the excellent third album from the Weird Weeds, a wonderfully hard to define experimental pop band also from Austin Texas. A surprising and deeply engaging group, reference points are hard to pin down. There is an off-kilter sprawl to the performances that tries to disguise its haunting, hooky songwriting, and reminds me of Skygreen Leopards, or Robert Wyatt and Soft Machine, and at times it drifts towards pure pastoral folk, but this band has a sound all their own. Between nimble finger-picked guitar, clattering yet muscular percussion, raw, emotional male/female vocals and the layers of sound that seep from these songs, I Miss This envelops and embraces. Moods and grooves blow in and out of the album with the wind, it is not afraid to rock, but it more often whispers, and the Weird Weeds have built this music from the ground up, based on solid, original songwriting and real emotion. A great album from start to finish.
-Josh Madell


Sleepyhead
The Family Tree / Red Letter Daze
Other Music Digital Exclusive Advance
Sleepyhead Records
$1.99
Listen & Buy
Almost a decade since Sleepyhead released The Brighter Shore, most probably assumed that the onetime Big Apple indie rock staples had called it a day. Turns out that it was only a long hibernation, with founding members Chris O'Rourke and Rachael McNally (who tied the knot shortly after the release of their last album) now residing in Boston, where they've been slowly piecing together a new full-length with producer Mike Deming (Pernice Brothers, Beachwood Sparks). Judging by this digital single, time has bode them well, Sleepyhead having honed their pop sensibilities into fine art with "The Family Tree," a joyous comeback built around some Byrds-ian jangle and lots of thick harmonies enshrouding O'Rourke's breathy tenor. The backing track, "Red Letter Daze," is a little more bittersweet but no less sun-kissed, filled with warm, yearning melodies and layers of chiming guitar and swirling organ. Old fans will not be disappointed, while followers of pop bands from the Shoes to Teenage Fanclub will no doubt place these two songs into heavy rotation.
-Gerald Hammill
Doris
Did You Give The World Some Love Today, Baby?
Mr. Bongo
$9.99
Listen & Buy
This odd one-off pop record by would-be Swedish chanteuse Doris (Svensson) has had quite a run amongst the beat digging, rare groove crowd for quite a while. Recorded in 1970, Doris was Sweden's answer to Lulu, apparently. She had the same cute bob and quite the Anglo-soul pipes, very comfortable singin' in a variety of styles that were popular during that time period. Ten years ago, this album would fetch hundreds of dollars from collectors on the strength of the rare-groove floor-fillers "Don't" and "Beatmaker." Both tunes are solid, horn-fueled slices of jazz-cabaret, breakbeat pop, topped off by Doris' sassy vocal performance. Although those two tunes kept this album on many collector's "want" list for years, the highlights don't end there. "You Never Come Closer" is a moody piece of dark, slinky psych-pop that was a precursor to the funky cinematic sounds of David Holmes, Portishead and the like. She also turns in a beautiful jazzy cover of The Band's "Whispering Pine" and the title cut is a nice piece of Dusty in Memphis style pop-soul. The album is actually quite listenable from start to finish with a little something for everyone. It's nice to see this one back in print again!
-Duane Harriott
Various Artists
Spaced Out + Mixed In Outer Space
Mr. Bongo Worldwide Limited
$9.99
Listen & Buy
When this seminal compilation was initially released nine years ago, it was somewhat of an anomaly on the dance music landscape, years ahead of its time, coming out during a period when "spaced-out" dance music meant -- to most -- Sasha & Digweed and Oakenfold, not Arthur Russell and Francois K. Sure enough, Russell and Francois K are represented via "Go Bang" and K's classic dub of "Just in Time." This collection also includes the stellar MAW remix of Atmosfear's "Dancing in Outer Space," which would become an anthem at parties like Body & Soul. Spaced Out and the artists celebrated on the comp are the prototypes for current NYC dance producers like Professor Genius, Douglas Lee, Metro Area and the like. Highlights also include little known cuts from Francine McGee and Powerline's rare mega-jam "Journey."
-Duane Harriott
Current 93
Sleep Has His House
Durtro Jnana
$9.99
Listen & Buy
This requiem for David Tibet's departed father is a subdued, yet ultimately uplifting affair that represents one of his most revealing and personal works. Accompanied only by the guitar of Michael Cashmore and his own harmonium (with sound sculpting courtesy Steven Stapleton), Tibet negotiates a suite comprised of nine stark elegiac compositions with heart-rending aplomb. Just beautiful. "You have entered the blood-red eye of the immaculate golden storm. Rest now in the Thunder Perfect Mind: Your face is all the Sky...February 1, 1925-February 24, 2000"--David Tibet.
-Jeff Gibson


Augustus Pablo
El Rocker's
Pressure Sounds
$9.99
Listen & Buy
Augustus Pablo was one of the true pioneers of dub. His instantly recognizable sound was rooted in the sound of a child's toy, the melodica, a kind of wind keyboard on which he played spare, serpentine melodies, which shifted and wove beautifully with the dark throb of the bass lines underneath to create some of the most haunting music ever recorded. His most celebrated work was 1977's classic King Tubby Meets Rockers Uptown, a group of Pablo tracks mixed and re-mixed by the inventor of dub himself into one of the two or three most essential dub records. And this collection will be a celebratory affair for that disc's many thousands of fans. It's a kind of Part Two, featuring at least one instrumental or alternate dub mix of every melody on the original. Some of these were released as impossibly rare singles, some as backing tracks for various singers, some are unheard in this form until now, but all 17 pieces cohere into an album which not only offers its own satisfactions, but stands as a fascinating view of the not-so-raw material from which a masterpiece was formed. Great tunes and rhythms, informative notes, one of the necessary items for any self-respecting dub collection.
-Andrew Leigh