Live at Other Music: Black Lips (Episode #11)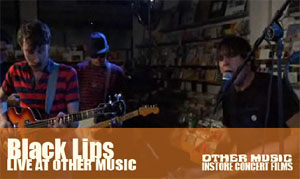 Yeah, we were a little bit scared when we booked Black Lips to play an in-store. Would they (and their combat ready fans -- check the army helmet in the front row) tear apart the store? Would they blow the sound system? Would they pee on us? But our passion beat out our terror, and anyway, they wanted to play acoustic, so what could go wrong? And despite a reputation for alcohol-fueled mayhem at their gigs, by all accounts these guys are sweet, silly and a ton of fun, and they did not disappoint on any of these fronts. The band delivered a (vaguely) acoustic set of raucous songs from their recent Good Bad Not Evil album, as well as some classics. Afterwards our super-fan Pam sat down in the back room with Cole and Jared to talk about life on the road, dressing like ghosts, and their impending expedition to China. Don't be frightened, enjoy!
-Josh Madell
Watch Black Lips "Live at Other Music"»
Listen and Buy Black Lips on Other Music Digital»
Produced by Dig for Fire [www.digforfire.tv] »
Upcoming Live at Other Music Episodes:
May 30 - Blood on the Wall
June 13- My Brightest Diamond
June 27- The Dirtbombs
Watch earlier episodes of Live at Other Music with Taken By Trees, Toumani Diabate, White Williams, Richard Hawley, Celebration, Vampire Weekend, The Clean, Tinariwen, No Age, and St. Vincent

This Week's Free Song Download

Paavoharju
Uskallan
Fonal
$0.00!
Listen & Download
Free download of "Uskallan," one of the many elegant and exotic songs off of Paavoharju's new album, Laulu Laakson Kukista, available on Other Music Digital. The Finnish band is seemingly possessed by forest spirits and psychedelic ghosts, their sound effortlessly shifting from folk lullabies to radio static, via exotic electronic rhythms and swirling psych, playing like Cocteau Twins, Sun City Girls, and Vashti Bunyan all at once.

This Week's Featured Downloads

Nat Baldwin
Most Valuable Player
Broken Sparrow Records
$9.99
Listen & Buy
Nat Baldwin's background isn't too dissimilar to Arthur Russell: both classically trained string players who simultaneously move in experimental and pop circles, bringing the avant sensibility of the former to that of the latter, which results in something completely singular. By no means am I implying that Baldwin is Russell reincarnated; that would be musical blasphemy around these parts. But there are moments on his Most Valuable Player album where it's just Baldwin singing over his bowed double bass ("Only to Find" in particular) that mirror the personal nature and the open ambience of World of Echo. That's really where the similarity ends, however, as MVP is more earthy compared to Russell's use of space. Baldwin's sawing bass in album opener "Lake Erie" provides the backbone for the rest of the band to ebb and flow around his elastic falsetto, which reminds me all at once of Jeff Buckley and David Byrne. It's also no coincidence that you can hear ghosts of Dirty Projectors, as Baldwin played bass on Rise Above, and recorded Most Valuable Player in the same living room soon after the band had wrapped up those sessions, with Projectors guitarist Dave Longstreth in tow. Produced by Grizzly Bear's Chris Taylor, there's no fluff in the production, every instrument serves a purpose, making this set of songs all the more personal and even urgent; it gives Baldwin the room to play with sound of his double bass and voice. With lyrics borrowed from the titles of Morton Feldman and Christian Wolff compositions, "Look She Said" brings us back to his days studying under Anthony Braxton, as Baldwin's falsetto slowly see-saws over the haunting drone of his bass which resembles the sound of a didgeridoo until it erupts unexpectedly into free jazz-inspired scrapes and skronk. Most Valuable Player indeed.
-Gerald Hammill
CocoRosie
God Has a Voice, She Speaks Through Me
Touch and Go Records
$1.11
Listen & Buy
A great new song from CocoRosie, which finds Sierra and Bianca Casady in a fairly upbeat, albeit, ethereal mood. Usually ones to experiment with sounds and juxtapositions of music styles, "God Has a Voice, She Speaks Through Me" relies less on the sister's earlier lo-fi folk ornamentation, and the hip-hop influences are far more subtle than what we heard on 07's Adventures of Ghosthorse and Stillborn, the track gliding on a more atmospheric electronic path.
Rosetta Hightower
Rosetta Hightower
RPM Records
$9.99
Listen & Buy
RPM does us all a great service by reissuing another fantastic lost soul album from an amazing soul-belter, who got lost amongst the shuffle in the late-'60s. Rosetta Hightower was a member of an obscure vocal group called the Orlons, who specialized in upbeat pop R&B inspired by the classic Detroit sound, or "northern soul" as the Brits like to call it. Although they only had minor hits in the US, they were well-loved by northern soul punters in the UK. Three of those tunes, "Spinning Top," "I Ain't Coming Back" and "South Street" have been floor-filling anthems within that scene for over 30 years, which are not represented here, but instead we get Hightower's amazing UK-only solo LP from 1971, as well as all four-sides of her solo singles from that period.
After the Orlons broke up, she married Ian Green who produced this album of amazing covers. This record sounds huuuge! Soaring strings, heavy backbeats...and that voice! Rosetta could really belt it out, and I'll be damned if her version of "Every Little Bit Hurts" isn't as intense as Brenda Hollaway's version. It was enough to drive this grown-ass man to tears. It also includes a killer version of Eddie Floyd's "Big Bird" and the first 30 seconds of this track are insane. Heavy, distorted breakbeats give way to a lacerating psych-guitar freakout, before dissolving into the lushest pocket of orchestrated soul you are ever likely to hear. If you dig on Tina Turner, PP Arnold and the like, you'll find a lot to love about this one. Dope!
-Duane Harriott
Marc Almond & Michael Cashmore
Gabriel & the Lunatic Lover
Durtro Jnana
$1.99
Listen & Buy
Gabriel and the Lunatic Lover is the first in a series of collaborations between Marc Almond and Michael Cashmore, here, the duo setting to music two poems by 19th century writer Count Stanislaus Eric Stenbock. It's an exquisite set, Cashmore's lush yet understated orchestrations providing a beautifully melancholic backdrop for the dramatic croon of the onetime Soft Cell singer.
Stavely Makepeace
The Scrap Iron Rhythm Revue
RPM Records
$9.99
Listen & Buy
Stavely Makepeace, an appropriately bizarre name for such an unusual and obscure '70s rock band from England. Their instrumental "Slippery Rock 70s" made its way onto the immensely popular Velvet Tinmine compilation of "junk shop glam ravers" CD which we sold in the store a few years back, and we are pleased to now carry a download version of this full-length collection of their primarily homemade recordings spanning more than a decade. Most of the tracks were singles released on a variety of small and forgotten UK major-label subsidiaries. There's a lot of strange bar-room jamming going on here, with tinkly upright piano and driving blues/R&B influenced riffing, a fiddle or mandolin here and there... I imagine that's what happens when a bunch of British glam rockers get together and sort of try to sound like Carl Perkins. The Sweet meet the Kinks' Muswell Hillbillies? The most unbelievable part is how well it all works. These guys must have been some kind of genius songwriters to have the know-how to puts hooks galore into their totally weird alternate universe honky-tonkin' tunes. The songs may be odd, but they're as catchy as they come. There's also some great soft rock ballads on here that prove the band was doubtlessly more than capable of making more commercially-viable music. The band's later material got weaker and weaker, but luckily the disc is arranged chronologically and the first 35 minutes of The Scrap Iron Rhythm Revue are pretty much unstoppable. Stavely Makepeace were truly original, and this will probably be the first and last anthology of their work. I love this!
-Rob Hatch-Miller
The Congos
Congo Ashanti
Blood and Fire
$9.99
Listen & Buy
Cedric Myton and Congo Ashanti Roy (a/k/a The Congos) may forever be known, or possibly not, for their classic Heart of the Congos LP recorded by Lee Perry. Their material remains as classic as Bob Marley and Burning Spear's '70s output. The duo blended roots rhythms with beautiful harmonizing; Cedric's soaring falsetto could send chills up your spine, while Ashanti Roy kept it grounded. Blood & Fire's extended reissue of this release originally recorded in 1979 for VP, collects the proper album with four extra tracks -- two vocal with their respective dubs.
The Congos' power comes from their strong self-empowering lyrics bringing Rasta beliefs into a social context through simple words and engaging metaphors, and through their great use of harmonizing. Cedric's falsetto can be soft and delicate or forceful, similar to Junior Murvin, Culture, or US soul group the Stylitics in sound. Congos Ashanti was recorded at Harry J's, mixed by Geoffrey Chung, and backed by Sly Dunbar, Ernest Ranglin, and Tommy McCook among others, with additional backing vocals from Walty Burnett and his Congo partner, Roy Johnson. Soon after Congo Ashanti Roy would go on to work with Adrian Sherwood during the birthing of his On-U sound. Fans of soulful roots should give this a spin, from one of the most distinctive vocal groups within reggae's history.
-Daniel Givens