Other Music Digital Affiliate Program
We are very excited to be launching our new Affiliate Program. You can earn money by sending your web traffic to Other Music Digital for downloads. Click here for more details.


SXSW 2009 Lawn Party Film Series (Episode #1)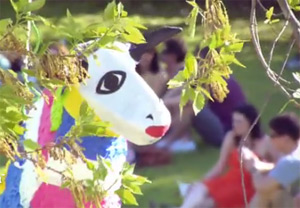 2009 was the second year that Other Music and our film partners at Dig For Fire got together and threw a big ol' party at the South by Southwest Music Festival, with a ton of our favorite bands playing on the rolling lawns of the French Legation Museum in Austin. This year the video-streaming site, Babelgum, sponsored us and they have posted a slew of excellent performance highlights and interviews. It's been a few months now since SXSW, but the films are no less fresh, and we hope you'll enjoy these exclusive live performances from some great artists -- the first in the eight-part series featuring the Thermals, Marnie Stern, Laura Gibson and the Tallest Man on Earth.
While you can stream all of the episodes on Other Music Digital, you can also click to watch invidual song highlights from: A Hawk and a Hacksaw, Army Navy, Asa, Benjy Ferree, Cause Co-Motion!, Cursive, Dent May, Efterklang, Laura Gibson, J. Tillman, Marnie Stern, Miles Benjamin Anthony Robinson, Pete and the Pirates, Rebecca Gates, Telekinesis, The Tallest Man on Earth, The Thermals, These Are Powers, Thomas Function, Viking Moses, Virgin Forest, Wavves.
Produced by Dig for Fire [www.digforfire.tv] »
The Leaf Label Spotlight

Various Artists
Don't Run Over the Birds, Please.
The Leaf Label
$1.99
Listen & Buy
We are excited to offer Don't Run Over the Birds, Please, a seven-song, album-length sampler from The Leaf Label for the low, low price of $1.99. It's not only a great introduction to the imprint's diverse roster of artists, longtime fans should be pleased to find several unreleased gems as well. The collection includes a live recording of Efterklang performing a fully orchestrated version of "Frida Found a Friend" with the Danish National Orchestra; a dark electro-acoustic treat via Murcof's "Excerpt #1;" "Melankolia" (Edit) from producer extraordinaire Vladislav Delay's (a/k/a Sasu Ripatti) forthcoming album; a brand new song ("So Many Lemons") from Chicago pop experimentalists volcano!; a bonus track from Essie Jain's second full-length, The Inbetween; "Tow the Line," a wonderfully melancholic, piano-driven preview off of singer/songwriter Nancy Elizabeth's sophomore album, set for release this fall; and the rollicking, Eastern European-inspired "Kertész," off of A Hawk and a Hacksaw's latest album, Délivrance... and did we mention the price?!
We are also thrilled to be offering almost every Leaf album in our download store for the special low price of $5.99 through the month of August. (A Hawk and a Hacksaw's latest release and the upcoming album from Vladislav Delay will still be sold at our standard $9.99 price.) It's a great time to pick up on records that you may have missed as well as diving into the catalogue of one of the finest labels in independent music. Below are but a handful of what we consider to be the label's best releases through the years, but click around on the Leaf Label page. We're sure that you'll find some new favorites as well.
Colleen
The Golden Morning Breaks
The Leaf Label
$5.99
Listen & Buy
While 2004's Everyone Alive Wants Answers was an extremely pleasant exercise in looped and layered ambience, The Golden Morning Breaks finds Parisian sound sculptor/musician Cécile Schott (a/k/a Colleen) delving even further into developing her own personalized aesthetic. The instrumentation favors a similarly acoustic sound to that of her previous effort (guitar, glass glockenspiel, cello, etc.) but as opposed to the sample-heavy compositions on her debut, this record illustrates a new phase for Colleen, which focuses as much on performance as it does on sound.
The album opens slowly with a haunting guitar and cello refrain that foreshadows the cyclical melodies to come. The overall structure is deceptively simple with each track escalating just a little further than the previous. While Colleen samples and manipulates her own acoustic sounds freely, it's done in such a loosely fluid style that the listener becomes engaged with the music rather than the technology.
The Golden Morning Breaks is a beautifully constructed album of musical vignettes that become richer with each new visit. This is one of the very few new electronic releases that I have found myself coming back to over and over again. Well worth the entrance fee.
-Koen Holtkamp (2005)
PSAPP
Tiger, My Friend
The Leaf Label
$5.99
Listen & Buy
An amazing debut from a London male/female duo that go by the name of PSAPP, 2004's Tiger My Friend is a beautiful melding of bedroom electronics, various strings and woodwinds, and in their own words, "any children's toy that squeaks." Yes, they make a lot of their music with toys but this is no novelty project; this duo has the songs to back it up. Their sound is reminiscent of Stereolab, Broadcast, Brigitte Fontaine, ISAN, and all sorts of unique, great pop music, but they still retain their own unique identity. Tiger, My Friend is a beautiful pop album chock full of childlike melodie, kind of like a "music box gone wild"... and that is a very, very good thing. If pop music like this were on the Billboard charts, the world would be a much better place.
-Jeremy Sponder (2004)
Murcof
The Versailles Sessions
The Leaf Label
$5.99
Listen & Buy
This record nearly knocked me out of my seat at every turn. I sat down to listen to this expecting more of the spacey dubstep with cello and violin drones that made 2007's Cosmos one of the most underrated dubstep releases of an oversaturated and over-hyped year in the genre. I was getting sick and tired of the Burial paradigm being blundered, grime albums without the technical supervision, and minimal techno artists forsaking the dub for the step. Within that foray, Murcof emerged as one of few artists to produce a dubstep album that sounded fresh and worth your time. Admittedly, this is because the music was barely within the confines of the genre.
Even with Murcof's progressive resume' dating back to 2002's tremendous Martes, The Versailles Sessions floored me. The album somehow wraps up Iannis Xenakis, COH, Kode 9, and Machinefabriek under a Matmos-esque thematic concentration on 17th century baroque classical impressions. Apologies for lamely throwing a handful of names at you, but they seem to validate connections to grandiose electro-acoustics, strings with microbeats, successfully edgy dub, swirling drone, and dissertation worthy concept albums. Add to that a mezzo-soprano and we are in the ballpark. And yes, this album warrants each reference.
Fernando Corona's sampling of harpsichords and fifes somehow fit with distressing ease into his ornate modern classical electronica. I listened to this album with both attentive and gleeful, childish enthusiasm, giggling at samples of baroque fife and viola de gamba, bobbing to the beat of throbbing bass and microbeats, and shaking my head at the boggling mastery of an electronic maestro making the most out of a staggering installation of sound and light featured at 2008's Les Grandes Eaux Nocturnes at the Chateau de Versailles. Corona's songs matched the visuals of giant disco balls splashing into water. This is the musical linchpin of an anachronistic modern display within the context of the audacious monument to Louis XIV's absolute monarchy. Most assuredly recommended for all halfway interested in any name this blurb mentions, and even for those not.
-Brian Cassidy (2008)
Susumu Yokota
Sakura
The Leaf Label
$5.99
Listen & Buy
With 2000's Sakura, Susumu Yokota drafts deep, but limp (relaxing!) soundscapes in the ambient mold. His uniqueness lies in the redevelopment of a musicological historical progression -- here he follows the path that edges from early '70s science fiction soundtracks into the new age -- to be specific, the sounds ones you might find from background music of Dr. Who or maybe even the original Battlestar Galactica series, projected into the soft depths of classic Kitaro or Vangelis. His entrancing noisescapes are not perfectly circular nor elliptical, even as they start and end at the same place in cycles. It's like he's tracing the contours of a body with his Korg, his paths identical to the rounded, irregular cross sections of limbs, torso, neck. Certainly, the formulas I described above don't hold consistent for the whole disc. For instance, a neat jazz track keeps samples of murmurs in the same box as '70s electric piano and a clanky, yet grooving click track, others are anchored by disco or loose house beats. And these irregularities make it an album that invites closer listening -- new nuances revealing themselves in the repeat.
-Robin Edgerton (2000)
Phelan Sheppard
Harps Old Master
The Leaf Label
$5.99
Listen & Buy
Harps Old Master is my first introduction to Keiron Phelan and David Sheppard's music, as I've somehow missed the duo's previous release under this working title, as well as a few earlier records from them under the name of State River Widening. But this is the sort of album that one can approach without expectations; its twists and turns through lush soundscapes are instantly captivating, the band effortlessly crafting free-floating, cyclical music with post-rock precision. Terry Riley meets Tortoise? Well, maybe a little, but Harps Old Master is much more melodic than academic. Featuring guests like Willard Grant Conspiracy's Josh Hillman on violin and viola, and Laika's Guy Fixsen on trumpet, the songs are transfixing, as layers of finger-plucked acoustic guitars and Rhodes are augmented with rich orchestration and the occasional lilting vocal/spoken word from Ines Naranjo. There's a sort of collage approach to the arrangements, but the music is far from abstract. If anything, there's a dreamy nostalgia which holds these pieces together, the production practically sparkling as melodies bounce back and forth between the stereo speakers. Fans of Town and Country, Mice Parade and Tortoise will find much to love here.
-Gerald Hammill (2006)
Efterklang
Tripper
The Leaf Label
$5.99
Listen & Buy
Efterklang are a 10-piece ensemble from Denmark that includes Iceland's Amina Quartet. (Amina are responsible for all of the strings on Sigur Ros' albums.) An incredible debut, Tripper features rich orchestral textures, dual male and female vocals and crisp, glitchy electronics. The formula may sound familiar but the music is unlike anything else that you have heard in a while. Efterklang are definitely influenced by the aforementioned Sigur Ros along with My Bloody Valentine, Mum, and many, many more, but they put their own spin on things. The tracks on Tripper range from Oval-type glitch-pop with beautiful lulling vocals hovering atop, to Rachel's- and Philip Glass-inspired orchestral compositions, to electronic pop gems that would fit well alongside Morr Music's finest. The overall atmosphere of Tripper is stark and cold with an unexplainable underlying beauty making it the perfect soundtrack to the forthcoming winter. An amazing debut that is a must have for fans of Sigur Ros, Mum, Colleen, and Rachel's.
-Jeremy Sponder (2004)
Asa-Chang & Junray
Tsu Gi Ne Pu
The Leaf Label
$5.99
Listen & Buy
Asa Chang & Junray's Tsu Gi Ne Pu is designed to intrigue, confuse, and sedate its listener through its tranquil oddity. The emphasis of this record is on the dichotomy of modern technique, ancient tradition, and the space that lies in between. Babelogues of spoken word cut their way through tablas, sitars and well-thought out percussion. Chang is obsessed with the ideas of classical compositions and each track is essentially a highly detailed math equation. You will be surprised, agitated and when you make it to the percussion-less hidden track, finally set free to debate what the hell it was you just consumed. Recommended for those willing to expand.
-J Dennis (2003)
Riow Arai
Mind Edit
The Leaf Label
$5.99
Listen & Buy
Mind Edit is a modern hip-hop record harkening back to the simple, effective beat manipulations of DJ Krush. Unlike most post-Autechre releases (although Arai has released records on Skam) which replaces the tried and true acoustic drum sample with a cold, glitchy and "futuristic" drum hit, Arai's Mind Edit depends on the cut-up, MPC-driven rearrangement of the beat to make it fresh. When he's not doing the laidback slow jams of "Gold" and "Dine at Daybreak," Arai is kicking it out and cutting it up like DJ Krush breakdancing with Akufen. Lots of stuttering stereo effects to keep the beat lively, doubling back and kicking it forward. Oftentimes the tracks resemble the collaborations between DJ Krush and DJ Shadow from the mid '90s ("Strictly Turntabilized" and "Meiso"), with some updates on the arrangements. The dark, noir-ish hip-hop of Krush is suddenly thrown into the deep piano-led beat attack of vintage Shadow. Nice.
-Scott Mou (2003)
Rob Ellis
Music for the Home
The Leaf Label
$5.99
Listen & Buy
Rob Ellis, who is also a frequent collaborator with PJ Harvey, reveals subtle wonders in his solo recordings from 1994 to 1999. Ellis' fondnesses, or what appear to be his fondnesses, are solidly in the Varese ("Poeme Electronique") or Ligeti ("Poeme Symphonique f. 100 Metronome") school of pensive, nearly trapped compositions of complete control masquerading as chance. His tangling of modern classical musics are all about inconsistency, various kinds: in texture, rhythm, motion. Ellis uses keyboard instruments: open piano strings, twinkling glockenspiel, veiled accordion, harpsichord that trickles like a drippy faucet, vibrating organ notes held so long and clearly they sound open and flute-like, a typewriter, and maybe a pipe organ in there, somewhere. He then stretches and squishes these together and apart like a big sticky popcorn ball, or like Terry Riley's minimalism sped up 10 times. Each track leaves unfinished, open-ended, he'll build escalating oscillations, tinkly whirrings, drawn-out sirens, and cut them where you least expect it. A fascinating, raw work, one that should appeal to electronic music fans and 20th-century classicists alike.
-Robin Edgerton (2000)
Triosk
The Headlight Serenade
The Leaf Label
$5.99
Listen & Buy
This Australian three-piece is one of my favorite new groups of the past few years. Triosk's recorded journey began in 2003 with 1+3+1, their winding and wonderful collaboration with Jan Jelinek, and since then they've established a unique mix of jazz, minimalism, post-rock, electronica, improvisation, deconstruction and loose groove. Their second proper full-length, The Headlight Serenade, is a wealth of stark yet shimmering, rich pastoral landscapes. Like the barren sands of down under, their minimalist touch is engaging, with just enough structure to pull you in, and then, through repetition with slight variations, you eventually find yourself happily lost in their organic maze of sound. Triosk's jazzier moments are downplayed here for an almost classical treatment, using piano to great effect, as well as Rhodes, electric and acoustic bass, drums, vibes, percussion, and samplers in the process. Listing reference points is not that simple, for their fragile and fractured compositions have some familiarity, yet it's truly their own. Think deconstructed Can or This Heat, Steve Reich, the Necks, Rachel's, and, of course, Jan Jelinek. If you're looking for an expansive, engaging and easily enjoyable journey in minimalism, this is where it's at. Dark, warm and a thing of beauty, Triosk keeps getting better with each release. A little teaser: one of the best surprises of the album comes during the last track, "Fear Survivor."
-Daniel Givens (2006)
Gorodisch
Thurn & Taxis
The Leaf Label
$5.99
Listen & Buy
Stephen Cracknell's debut, with nought under his belt but a track on a comp and an association with Badly Drawn Boy to his name. And, though only twenty minutes long (8 tracks), it's a remarkable vision of folk melodies, new-age pastorals, and modern lilting beats, all inscribed within an acoustic jazz ensemble structure. The piano travels and bounds, tingly beats tickle the mix, drums and bass (that's real drums, stand-up bass) give a beatnik bed to the mass. Stan Getz and Brinkmann in a coffeehouse? Penguin Cafe Orchestra with Plaid? Just sort of, and more. It's really a weird record (that's a very high compliment, btw!) -- earthy and swanky, very British as if from both the trip-hop and folk scene at the same time. Damn, good.
-Robin Edgerton (2001)