Other Music Digital Affiliate Program
We are very excited to be launching our new Affiliate Program. You can earn money by sending your web traffic to Other Music Digital for downloads. Click here for more details.


Win Tickets to "Blue" Gene Tyranny & Lubomyr Melnyk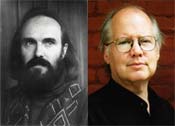 This Thursday, Unseen Worlds presents a night of piano music at 15th Street Friends Meetinghouse in Manhattan with composers "Blue" Gene Tyranny and Lubomyr Melnyk, who will each perform full sets. "Blue" Gene Tyranny's piano work has been well-known in the Downtown New York scene since the 1970s and, proven beautifully in the Lovely Music releases The Intermediary and Take Your Time, has only become more and more revered with each passing year. Over the last 30 years, Lubomyr Melnyk has crafted a massive catalog of artistically demanding and aesthetically beautiful works. Recently, with public admiration from popular musical figures like James Blackshaw and Jim O'Rourke, Melnyk's reputation and fan base is larger than ever. This event is only his second New York appearance ever and his first in 20 years since he first performed at the Ukrainian Institute in 1989. Other Music has two pairs of tickets to give away to this very special night, and you can enter by emailing tickets@othermusic.com. We'll notify the two winners this Wednesday.

Thursday, November 12
Fifteenth Street Friends Meetinghouse: 15 Rutherford Place (3 Blocks from Union Square) NYC
7PM / $15 Advance Tickets
This Week's Free Song Download

Bibio
The Apple and the Tooth
Warp Records
FREE
Listen & Buy
Free song download of The Apple and the Tooth, from Bibio's forthcoming EP of the same name (out tomorrow, November 9). These past few years, Stephen Wilkinson has been steadily pushing his gauzy collages of folky-guitar loops and found sounds into fully realized songs while still retaining the hazy dream-state of his early work. "The Apple and the Tooth" is a short and sweet, beat-driven slice of sun-baked psychedelia, with chopped-up flutes swirling around Wilkinson's introspective melodies and finger-picked guitars.

This Week's Featured Downloads

Etienne Jaumet
Night Music
Domino Recording Co
$9.99
Listen & Buy
Night Music, the solo debut from French producer Etienne Jaumet (of Zombie Zombie), is an incredibly original amalgamation of house, disco, ambient, Krautrock, and a myriad of other influences. It kicks off with the sprawling, twenty-minute-plus "For Falling Asleep," a droned-out-yet-danceable free jazz exploration, and the record just keeps getting weirder and more immersive from there. Recommended!
Harmonia & Eno
Harmonia & Eno '76 Remixes
Amazing Sounds
$1.99
Listen & Buy
These are two brand-new remixes of cuts from the Tracks & Traces album, which found Brian Eno teaming up with kosmische supergroup Harmonia (featuring Neu!'s Michael Rother and Cluster's Hans-Joachim Roedelius and Dieter Möbius). "Sometimes in Autumn," remixed by producer Shackleton, is a glitchy, digitalized reinterpretation of the original masterpiece while "By the Riverside" is a dubstep-informed remix courtesy of Appleblim and Komonazmuk.
Sun Ra
The Antique Blacks
Art Yard
$9.99
Listen & Buy
Here's a previously unreleased live recording of Sun Ra and friends at the Saturn Club in Philadelphia, circa August 1974. These eight cuts are searing free-jazz explorations peppered with noisy freak-outs, featuring Sun Ra on synths and vocals (of the chanted, extra-terrestrial variety), John Gilmore on tenor sax, Marshall Allen on alto, Akh Tal Ebah on trumpet, and many more. The band achieves atmospheres and tones that sound futuristic to this day.
Michael and the Mumbles
Michael and the Mumbles
De Stijl
$9.99
Listen & Buy
Believe it or not, outsider-folk icon Michael Yonkers was once in a lovesick, teenaged garage-pop outfit called Michael and the Mumbles. Their self-titled LP from 1966 is a deliciously homemade collection of pop hooks and sunshiney instrumentation, but, true to Yonker's form, there's also a dark, gritty edge, a sophisticated malaise that sets this group apart. Definitely a harbinger of Yonker's later work.
Kevin Barker
You and Me
Gnomonsong Recordings
$9.99
Listen & Buy
Kevin Barker may be a new name to many, but as a full time member of Vetiver and collaborator with the likes of Devendra, Vashti, Joanna, Antony and Espers, it's not surprising that this DC songwriter's solo debut is a fully-formed set of laidback country-rock that effortlessly pulls from the influence of greats like CSNY, the Band and Roy Harper. His backing band ain't too shabby either, featuring Wilco's Pat Sansone, Joanna Newsom, Eric Johnson and Otto Hauser.
Yeasayer
Ambling Alp
Secretly Canadian
$3.99
Listen & Buy
The first single off the forthcoming new album, Odd Blodd, from Brooklyn Technicolor psych-poppers Yeasayer. "Ambling Alp" is as catchy as, if not more than, anything we heard off of their 2007 debut, All Hour Cymbals, driven by the group's exotic poly-rhythms, sparkling synths and guitars and, of course, soaring falsetto melodies. Includes remixes from DJ/Rupture and Memory Tapes, plus an instrumental version.
Claude VonStroke
Bird Brain
Dirtybird
$9.99
Listen & Buy
San Francisco- (by way of Detroit) based, weirdo tech-house producer Claude VonStroke brings us almost an hour's worth of bass-heavy dance beats, airy synth-driven atmospheres, and, at times, some pretty unexpected instrumentation and sampling. Co-producers include J Philip and Justin Martin, and the second track features Bootsy Collins on vocals!
Guided by Voices
Suitcase 3: Up We Go
Guided by Voices, Inc.
$24.99
Listen & Buy
Robert Pollard is at it again, digging deep into his endless vaults and coming out with his third Suitcase set. Spanning four discs, there's 100 songs' worth of outtakes, demos and jams, recorded between the mid-'90s through 2009.The fourth disc is definitely where it'll be at for the diehards, featuring a bunch of acoustic songs recorded by Pollard, Greg Demos and Tobin Sprout between '94 and '95.
Home
The Home Box Set
Brah
$15.99
Listen & Buy
An essential 95 track collection from these Brooklyn (by way of Tampa) lo-fi rock pioneers, the Home Boxset features a decade-plus of super rare cassette-only releases and hard-to-find singles. Moving through rollicking, shambolic anthems like "(You Can Make It) Underground" and "My Yard" to covers of Ozzy, Blondie and the Boss -- it's no wonder that Home's twisted pop genius has been hailed by everyone from Oneida to Grandaddy and the Flaming Lips.
Jay Bolotin
Jay Bolotin
Locust Music
$9.99
Listen & Buy
Criminally overlooked at the time of its release in 1970, this self-titled masterpiece recorded by (then) twenty-year-old Jay Bolotin is rescued from complete obscurity by Locust Music, and in 2009, Bolotin's genius has never sounded fresher or more relevant. This is earnest, timeless folk, replete with strangely beautiful instrumentation and lyricism that is reminiscent of the poetic intelligence of Leonard Cohen or Dylan.
Starless & Bible Black
Shape of the Shape
Locust Music
$9.99
Listen & Buy
On their sophomore effort, this Manchester-based trio plays catchy folk-rock with a dark, gritty edge. Perfect production and shimmering, intricately layered guitar complements the buttery smoothness of French-born Hélène Gautier lovely vocals throughout. And the band is capable of jumping between aesthetics- gloomy, winding balladry, up-beat pop, and even some drone while still maintaining a completely recognizable sound.
Sonny & the Sunsets
Tomorrow Is Alright
Soft Abuse
$9.99
Listen & Buy
Sonny & the Sunsets, headed by singer/songwriter Sonny Smith, play refreshing, bare-bones pop music. Tomorrow Is Alright, the group's debut full-length, is replete with perfect hooks and unabashedly earnest, stripped-down vocals, the likes of which are liable to make a grown man or woman cry. Shimmering with a touch of melancholy and nostalgia, this is poppy garage rock at its most enjoyable.