Other Music Digital Affiliate Program
We are very excited to be launching our new Affiliate Program. You can earn money by sending your web traffic to Other Music Digital for downloads. Click here for more details.


King Cannibal at Santos Party House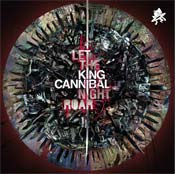 King Cannibal's Let the Night Roar features some of the heaviest beats and most aggro of sounds that Ninja Tune has ever released, and this Tuesday night the London producer will be making his first ever appearance in New York City, assaulting Santos Party House with his mercilessly dark, ragga-informed dubstep. It's a free performance and with Ghost Beard also on the bill, not to mention a DJ set from Anti-Pop Consortium's Beans, this is not to be missed.

Tuesday, Febuary 9
Santos Party House: 100 Lafayette Street (btwn Walker & White Streets) NYC
Free | Doors @ 11PM
This Week's Free Song Downloads

Oh No Ono
Helplessly Young
Friendly Fire Recordings
$0.00
Listen & Buy
Free song download of "Helplessly Young" taken from Oh No Ono's new album, Eggs, out now on Friendly Fire Recordings. This Danish group almost defies classification, their songs epic, multi-faceted affairs, replete with buried melodies and warm, fuzzy textures. Imagine the unlikely pairing of Air and Flaming Lips performing ELO songs, and you're halfway there.
Trayer
Ladyfingers
Porter Records
$0.00
Listen & Buy
A free preview off of Trayer's forthcoming album, One Over Zero, out next Tuesday, February 16 on Porter Records. Trayer's productions are warm and playful, the producer pulling from a grab bag of ambient, IDM, chip music and experimental influences, and never shying away from the occasional accoutrement of live instrumentation like guitar or organ. It all comes together quite nicely and even though the record constantly twists and turns, it never gets too difficult, with a new melody always lurking around the corner.



Topic Records Label Spotlight

Various Artists
Topic Records Sampler
Topic
$3.99
Listen & Buy
We're excited and honored to have this special opportunity to compile a low-priced 12-track sampler of some of our favorite songs culled from the vast, and vastly important, Topic Records catalog. Presently in their 70th year of business, Topic is without a doubt one of the longest-lived independent record labels in existence, having been one of the prime movers in the United Kingdom devoted to preserving the heritage of British Isles folk music. They introduced the world to the likes of Anne Briggs, Davy Graham, Nic Jones, along with myriad other fine traditional fiddlers, pipers, and ballad singers, as well as under-heard and scorned groups like the Irish Travelers. In later years their catalog expanded beyond the Isles to document folk music from marginalized and fast disappearing cultures in Indonesia, Eastern Europe, the Middle East, and points beyond. This is our idiosyncratic take on the label, featuring some well-regarded names amongst practically anonymous purveyors of folk music. In addition to the records that we're featuring below, be sure to look through the rest of the Topic catalog on Other Music Digital, as the label has recently begun releasing download-only reissues of many of their key albums and it's truly an embarrassment of riches. All the albums reviewed in this newsletter along with any Topic release issued digitally before 2009 will be marked down to $5.99 through February 22!
The McPeake Family
Wild Mountain Thyme
Topic
$5.99
Listen & Buy
Achingly beautiful collection of folk songs from the Northern Belfast-based McPeake Family, whose membership at the time of these recordings spanned three generations, the youngest being a pre-teen and the oldest in his eighties. This is probably quite different from most Irish folk music you've heard, as the founder of the group, Francis McPeake, had come up with an interesting accompaniment of harp coupled with the droney tones of the uilleann pipes to match the family's gorgeously loose harmony singing. It's rare to hear something this ancient sounding, yet still totally vital and unique. Everyone from the Byrds and Rod Stewart to Bob Dylan have been struck by this music and subsequently covered McPeake Family songs at one point or another, and I'm not employing the least bit of hyperbole when I say this is amongst the most affecting and magical folk music I've every been privy to.
-Michael Klausman
Archie Fisher
Will Ye Gang, Love
Topic
$5.99
Listen & Buy
I like Martin Carthy, really like Bert Jansch, and love Nic Jones, but my affection for the music made by Archie Fisher is inexpressible. He's not as widely known on these shores, but his abilities as a singer, guitarist, songwriter, and interpreter of traditional material are deserving of at least an equal portion of the acclaim afforded his more famous peers. His recorded output as a solo artist is sparse -- he's only made six albums in forty years -- and his emphasis on traditional Scottish material, especially Jacobite songs, perhaps makes him a bit less approachable. But if you're game, this 1978 Topic LP, the only one he made for the label, makes for a fine introduction to his brilliant guitar playing, effortless singing, and uncommon versatility. There are paeans to Bonny Prince Charlie and the Gallant Ninety Two; traditional Scots ballads; an interpretation of an oyster-dredging song (by means of incantation); and a couple Fisher originals, including a topical piece about the 1960s North Sea oil boom. A great record by a sublime artist, who also happens to doing a rare tour of the States now. If he comes within a day's drive, you'd be well-advised to make it.
-Nathan Salsburg
Margaret Barry & Michael Gorman
Her Mantle So Green
Topic
$5.99
Listen & Buy
Cork City's Margaret Barry was born in 1917 into a traveler [editor: not a traveling family, but Travelers/Tinkers/Gypsies] family of musicians. She left home as a teenager, wandering County Cork frailing a banjo and singing for money at football matches, pubs, and county fairs, and was "discovered" by Irish folklorist Sean Boyle on the streets of Dublin in 1951. Alan Lomax made the first recordings of her later that year, and by the mid '50s she had moved to Camden Town in London, where she became a popular figure of the folk revival and where the songs that comprise Her Mantle So Green were recorded. No one could sing like Barry -- her voice was immense, intense, but exceedingly beautiful and filled with pathos. She could wring emotion out of ballads that nearly every other singer turned to treacle. Once you hear her versions of "The Flower of Sweet Strabane," "My Lagan Love," and especially "The Factory Girl," you'll never again stand them sung by any lesser singer. Margaret was often joined for dance tunes by fiddler Michael Gorman and her ballads and songs are punctuated on this disc by some jigs, polkas, and reels the pair recorded live at the Bedford Arms, the epicenter of traditional Irish music in Camden. This record also contains one of the best sporting-related songs ever committed to tape: "The Cycling Championship of Ulster," alone well worth the bargain download price.
-Nathan Salsburg
Various Artists
Blowers from the Balkans - Classic Historic Recordings of Wind Instruments
Topic
$5.99
Listen & Buy
Mesmerizing survey of ancient 78rpm recordings from the Balkans, a vastly complicated place full of competing ethnicities and religions, as well as a wide and diverse range of folk and popular music styles. Focusing mainly on Romanian, Macedonian, and Ottoman-Greek music, the 25 tracks included here range from raucous wedding-style brass bands and pastoral peasant shepherd music, to strangely entrancing cafe music that instantly evokes an opium smoke-filled haze and daze. A great deal of these tracks are joyous, but there's also room for the deeply strange, such as the weirdly droney track "Snoshti MInaha Prez Selo Tursti-Drugovesrti, " whose title is translated as "Last Night the Infidel Turks Passed Through the Village."
-Michael Klausman
Various Artists
The Yemen Tihama: Trance & Dance Music from the Red Sea Coast of Arabia
Topic
$5.99
Listen & Buy
With Yemen serving as this season's premiere semi-failed state, now is a good time to explore some of the more enduring aspects of its character. That's what Anderson Bakewell did in 1982, recording the music of the Tihama region, along the country's western Red Sea coast. Tihama's geographic disposition has made it a port of call for centuries of varied commercial, social, and imperial forces, and its music a synthesis of many disparate regional styles and traditions. Bakewell's recordings of work songs, dance tunes, zar ceremonial music, and trance rituals in veneration of local saints sound at once familiar -- there are echoes of North African Sufi brotherhoods; Arab mawwal singers; troubadours of the Horn of Africa -- and wholly new. Although so many competing interests didn't bequeath Tihama a very peaceful history, the music that has emerged from it is exceedingly more noble and enlivening than the sort of exports -- attempted underwear bombers come to mind -- for which Yemen has more recently been credited.
-Nathan Salsburg
Hedy West
Old Times & Hard Times
Topic
$5.99
Listen & Buy
One of a small handful of Americans to record for Topic was Georgia-born ballad singer and banjo player Hedy West. Her father, Don West, was a noted poet and radical labor activist, and from her mother she inherited a deep repertoire of folk songs. Both these strains of influence are found easily in her music, with Old Times & Hard Times having been recorded in London during a period of self-imposed exile from the United States. It's a sparse and spare collection of moving and tough folk ballads, which seemingly bridges the gap between Karen Dalton and Hazel Dickens.
-Michael Klausman
Jarana's Four Aces
Jarana's Four Aces: Vocal Duels from the Streets of Lima
Topic
$5.99
Listen & Buy
A dusty, intimate snapshot of the musical life in Lima from nearly a half-century ago. Jarana was a form of dance music that originated in the ghettos of Lima, Peru during the late 19th century and continued to rise in popularity through the mid-20th century. In a vastly overpopulated city multiple families often occupied single rooms, and it was through these extremely cramped living conditions that jarana evolved. Jarana was based on a dance tradition called the marienera limena that cut across social and class divisions, but in the largely black and mestizo ghettos of Lima an improvised singing style developed. Spontaneous gatherings would frequently break out with the best musicians and singers competing with each other, these contests actually bearing some resemblance to a modern hip-hop battle. Usually the basis of the competition was agreed upon beforehand and it was up to each singer to build upon and one-up the previous singer with wordplay or a similar theme or subject from before. Within these late-'50s recordings you can experience some of the finest musicians of the time. Handclapping and guitars are prominent, but violins and percussion can also be heard, and if you listen closely, even the non-Spanish speaker can pick up on unique interplay and dexterity of the singers and players.
-Geoff Albores
Dominic Behan
Down by the Liffeyside: Irish Street Ballads
Topic
$5.99
Listen & Buy
Dominic Behan was a prolific singer, composer, man of letters, and Irish Republican who made over a dozen albums in the late 1950s and '60s. Some of those records were among the best offspring to issue from the mid-century commingling of radical politics, literary sophistication, and folk-music fancy, but sadly Down by the Liffeyside (1960) is the only one left in print. Drawing on a huge cache of traditional ballads, Gaelic airs, Fenian songs, and his own compositions -- most famously "The Patriot Game," "The Auld Triangle" (which first appeared in his brother Brendan's play The Quare Fellow), and "Easy and Slow" (included here) -- Behan sang like a proper Irish street singer, keening quaver and all, and had a profound impact on more than a generation of like-minded singers and songwriters: among them Andy Irvine, Johnny Moynihan, and Shane MacGowan. Not handy with an instrument himself, Behan was backed on Down by the Liffeyside by some young players who came to be known as leading lights of both the British and American folk revivals: Leon Rosselson; Peggy Seeger (wife of Dominic's occasional collaborator Ewan MacColl); and Ralph Rinzler.
-Nathan Salsburg
Davy Graham with Alex Korner
3/4 AD
Topic
$2.99
Listen & Buy
By all accounts one of the most explosive and influential records of the entire British folk-revival was this EP by solo acoustic guitarist Davy Graham, which featured the enormously stunning track "Angi." Clocking in at under two-and-a-half minutes, it's a dazzling display of guitar artistry -- fleet, serpentine playing that seems to reference about five different separate musical cultures in its brief running time. The other two tracks feature a deft mix of lackadaisical pacing with extreme proficiency, and basically lay the groundwork for a good portion of the career of Bert Jansch and John Renbourn.
-Michael Klausman
Nic Jones
Penguin Eggs
Topic
$5.99
Listen & Buy
Nic Jones got better with every record, and 1980's Penguin Eggs is arguably his masterwork. He could breathe new and exciting life into just about any old ballad, no matter how hoary, and it's no different with his interpretations of these songs of the sea, sea creatures, and sea-goers. His singular guitar technique is as maddeningly virtuosic as ever, his voice strong and true, and somehow even the comic song "Barrack Street" -- the tale of a shore-leave gone awry, along the lines of "The Beggar Wench" -- elicits chills and sighs. Perhaps it's because we know this was the last record Jones made. He barely survived a severe car accident two years later. His prodigious musical gifts didn't.
-Nathan Salsburg
June Tabor
Airs and Graces
Topic
$5.99
Listen & Buy
This is June Tabor's staggeringly wonderful solo debut from 1976. Hold on to your hat as it starts -- Nic Jones' guitar comes blazing in, and then there's Tabor doing that thing that she does with her voice, dropping and wheeling like a swallow, then following Jones' attack like a fox on a hound. (Forgive me -- enthusiasm breeds weak metaphors.) But as satisfying as Jones' guitar work is, Tabor's blistering a cappella versions of "The Plains of Waterloo," "Queen Among the Heather," and "Waly Waly" require not an iota of accessory. There's no one else that can carry the six-and-a-half minutes of "Waltzing Matilda" with only her voice, and not only does she do it, she owns it entirely. Of all the many talented female voices of British folk music's golden age, June Tabor was the greatest. And if she'd never made another record besides Airs & Graces, that'd still be true.
-Nathan Salsburg
Dick Gaughan
Gaughan
Topic
$5.99
Listen & Buy
Dark-hued collection of instrumental and vocal pieces from famed Scot's singer Dick Gaughan. This album has long been one of my favorites for cold and bleak winter mornings, as Gaughan sings hardscrabble ballads with a compelling moodiness that is matched by next to no one. He's somewhat reminiscent of Bert Jansch, or Nic Jones, but many of his songs place more of a focus on issues of labor strife and worker's rights, which has earned him acolytes such as Billy Bragg along on the way. Just give a listen to "Crooked Jack" to get an idea of what Gaughan's about: "They say that honest toil is good/for the spirit and the soul/but believe me boys it's for sweat and blood/that they want you down a hole."
-Michael Klausman
Cilla Fisher and Artie Trezise
Cilla & Artie
Topic
$5.99
Listen & Buy
Cilla Fisher, erstwhile member, with brothers Archie and Ray, of the Fisher Family, Scotland's first folk family of the 1960s, made several great records with her husband Artie Trezise in the late '70s and early '80s. Although their best, Balcanqhal, remains out of print, Cilla & Artie II won't disappoint, with gorgeous versions of "The Gypsy Laddies," "Blue Bleezin Blind Drunk," Robert Burns' "What Can a Young Lassie," and Stan Rogers' "The Jeannie C." Cilla and Artie were backed by an ensemble of nearly a dozen solid traditional players, including the virtuosic Cunningham brothers, Johnny and Phil, of Silly Wizard. Even the peculiar keyboard-heavy take on Ewan MacColl's "Fisher Laddies" has aged well, making Cilla & Artie II a nearly timeless slice of pastoral Scottish folk.
-Nathan Salsburg
Various Artists
Gipsy Music of Macedonia & Neighbouring Countries
Topic
$5.99
Listen & Buy
Absolutely blazing collection of Gipsy music recorded in and around Macedonia. This music is truly not for the faint of heart as these songs feature the searing tones of the double-reed piped Zorna, accompanied by a massive sounding drum called the Davul. These pieces almost have more in common with American free jazz of the sixties than with any other ethnic music I can think of, try to think of an Eastern European Albert Ayler, or Interstellar Space-era John Coltrane, then imagine that music being played full bore at a wedding celebration and you might have some idea of what is going on here. The final track is a devastating seventeen-and-a-half minute-long face off between two Albanian players that is as thrilling to listen to as it must have been exhausting to play.
-Michael Klausman