Other Music Digital Affiliate Program
We are very excited to be launching our new Affiliate Program. You can earn money by sending your web traffic to Other Music Digital for downloads. Click here for more details.



New Time for Laurie Anderson Signing + Just Added Performance!!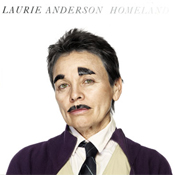 Laurie Anderson will not only be signing copies of her new album, Homeland, this Wednesday at Other Music, but we're excited to announce that she'll also be performing a short set as her alter-ego Fenway, from that record (out on Nonesuch). To accommodate this performance, the event will be pushed back a few hours, now beginning at 8PM and going until 9:30PM, so please make a note of the time change. We'll also be raffling off a pair of tickets to the opening night of her Delusion performance at BAM for the Next Wave Festival, on Tuesday, September 21. We hope you can join us for a very special evening with a true American innovator.

Wednesday, July 21
New Time : 8PM-9:30PM
Other Music: 15 East 4th Street NYC
Free Admission | Limited Capacity

Tonight: Dylan LeBlanc In-Store Performance
Also, don't forget new Rough Trade signing Dylan LeBlanc will be appearing at Other Music tonight (Tuesday, July 20) at 8PM. A mesmerizing singer-songwriter, his forthcoming debut album, due out on August 24, is excellent and will undoubtedly launch him onto a much bigger stage. See him here first!
This Week's Free Song Downloads

The Books
A Cold Freezin' Night
Temporary Residence Ltd.
FREE
Listen & Buy
Free song download of "A Cold Freezin' Night," from the Books' new full-length, The Way Out, released on Temporary Residence Ltd. Taking almost two years for Nick Zammuto and Paul de Jong to sort through an arsenal of found sounds and samples like self-help and hypnotherapy records, three-part Christian harmonies, folk music, brass arrangements, and odd recordings of children's dialogue, the duo's playfully imaginative and surreal melodies are as innovative and captivating as ever. As with their most beloved releases like The Lemon of Pink and Lost and Safe, you never emerge from the other side of the record the same as you started it.
The Love Language
Heart to Tell
Merge Records
FREE
Listen & Buy
After stirring up a buzz with a scruffy, lo-fi album, Stuart McLamb brings his one-man pop revivalism to a wider-screen with Libraries, his Merge debut from which this free download of "Heart to Tell" is off of. McLamb's MO recalls the same delicate, baroque take on Brill-Building pop that the Rosebuds whittled away at, muddling Spector-inspired wall-of-sound production and occasional anthemic rock 'n' roll sensibilities, not to mention, at times, a serious Rock*A*Teens vibe. Good stuff!
Nick Rosen
Nature's Breath
Porter Records
FREE
Listen & Buy
Having performed with jazz luminaries such as Henry Grimes, Bennie Maupin and Arthur Blythe, Nick Rosen delivers his solo debut. Out now on Porter Records, Into the Sky is a gorgeous, multi-textured album of vocal pieces and sweeping instrumentals, the 25-year-old multi-instrumentalist and composer joined by producer and arranger Miguel Atwood-Ferguson (Ray Charles, John Cale, Flying Lotus, and arranger of the J-Dilla tribute EP, Suite for Ma Dukes) who also plays piano, violin, viola and upright bass on several of the tracks, along with guests like Mia Doi Todd and a wide range of instrumentalists appearing throughout. This free download of "Nature's Breath" is just one of the many highlights.
This Week's Featured Downloads
Panda Bear
Tomboy Single
Paw Tracks
$1.99
Listen & Buy
Panda Bear returns with the first single from his forthcoming long-player, Tomboy, and it's a doozy of a title track (with cover art by Other Music's own Scott Mou!). The A-side's beach-party dub vibe features his trademark multi-tracked vocals smothered in by-the-pound reverberations, a minimal beat mimicking the clip-clop of a horseback ride, and sun-bleached rhythm guitar for a nice dose of sunny pop-psych. It's the (allegedly non-LP) B-side where he really shines, though; "Slow Motion" features PB's take on a stuttering, post-Dilla boom-bap hip-hop beat, with handclaps that snap from two hallways away, and a warped phase-shift that does crooked curly-cues around PB's vocal loops. It's a nice change of pace from both Person Pitch's stoner loopadelica and Merriweather's rave-pop, while still holding on to some of those records' memorable touchstones -- he manages to retain all of what have become oft-imitated signatures while shifting his sound into a slightly new direction, with a more rough-and-ready fidelity and a bit more abstraction than his last few forays into pop construction. Recommended!
-Mikey IQ Jones
Also available as a studio-quality WAV file. To purchase in WAV format, add the release to your shopping cart and then go to View Cart, where you can choose the WAV option and then proceed to check out. A $1.98 surcharge (or 99 cents per song) will be added, due to the large file size.
Martina Topley-Bird
Some Place Simple
Honest Jon's
$9.99
Listen & Buy
The world first heard Martina Topley-Bird's uniquely fragile yet stern vocals when she was only a teenager, the angel to Tricky's devil on his first album, Maxinquaye, from 1994. Their musical (and romantic) relationship would last four years and four albums, ending in '98 when she left to pursue a solo career, though her first album, Quixotic (which Tricky did lend a hand on), wouldn't surface until 2003. She has always worked with a select choice of producers, including Danger Mouse for her second full-length, 2008's pop-psych-soul-inspired The Blue God, and she has also guested on tracks by Diplo, Gorillaz, Common, David Holmes and most recently, Massive Attack. Topley-Bird's latest offering, Some Place Simple, was essentially recorded live in the short span of a week at Damon Albarn's studio and only includes a small amount of new material; instead, the singer mostly focuses on re-working select songs from her previous two solo albums, stripping the originals of their noir-pop dressings and bringing to light not only her beautiful words, but the equally intimate and special presence of her voice. These are very organic and bare-boned re-imaginations, created with instruments like kalimba, tablas, pandeiro, guitar, ukulele, harpsichord, electric piano, brush-stroked drums and hand percussion, all spaciously arranged, allowing the room for Topley-Bird to weave rich melodic tapestries out of layers of her voice. The results are stunning, as elements of blues, acoustic pop and minimalist soul bring to mind Minnie Riperton, Syreeta and Linda Lewis -- or you could even draw a comparison to nu-folk/alt-rock names like Joanna Newsom, Cat Power and Holly Miranda, only more rootsy and soulful. The unexpectedly sparse intimacy of Some Place Simple captures a special moment in the ever-shifting career of one of pop music's underdogs and reflects the inspiration of a maturing singer and songwriter. This is definitely the sleeper hit of the season; intoxicating and hypnotic, passionate and inspired, if you want to go to some place simple and truly special, start here.
-Daniel Givens
Waltel Branco
Meu Balanco
Mr Bongo
$9.99
Listen & Buy
This has been a venerable Brazilian beat-digger classic over the years, an all-instrumental set from the guitarist, composer and arranger who has lent his magic touch to hundreds of albums since the 60s. The baroque arrangements that are the hallmark of 60s and 70s Brazilian pop records is fully present and accounted for, but what really makes this one stand out is the smooth and funky rhythm section underneath, which provides a number of breakbeat-type moments, most notably on the title track's intro. There is also a very prominent trip-hop/Portishead vibe on more than half the album that just screams "cinematic," as befits a musician whose long list of credits includes a huge amount of soundtrack work as well. Ultimately, this record rewards close listening, but it's also a perfect example of a connoisseur's dinner-party album.
-Greg Caz
Mike Rep and the Quotas
Stupor Hiatus
Siltbreeze
$9.99
Listen & Buy
To label Mike Rep's music "lo-fi" is to do it a disservice. Sure, the trappings are all there: blown-out guitars, blown-out vocals, blown-out drums, and a formidable dose of tape-hiss. And, sure, he's done production work for the likes of Guided by Voices and Times New Viking. But two important factors set this gloriously exhaustive compilation apart from more contemporary lo-fi acts: (1) many of the songs date back to the tail-end of Nixon's presidency, before the phrase "lo-fi" was part of the cultural lexicon, and (2) Rep's production quality isn't an aesthetic choice but instead a fundamental component of his work, something unavoidable and necessary and wholly effective. The Siltbreeze-released Stupor Hiatus is a perfect record for beginners and long-time fans alike, a 19-song, hour-long compilation that chronicles the group's output from 1974 to 1992. Those dates, however, are misleading, in that each one of these tunes sounds timeless, or, more accurately, of an era that exists solely within the bounds of Mike Rep's mind. The album kicks off with the supremely over-driven proto-rocker "Rocket to Nowhere," featuring a brutally catchy power-chord riff and Rep's unmistakable vocal assault. "We're on a rocket to nowhere," he sings, sounding desperate and aimless yet also thoroughly in control, so much so that you'll want to board said rocket right alongside him.
Being a lengthy, career-spanning affair, Stupor Hiatus features some noticeable (yet never jarring) stylistic shifts throughout. The album contains elements of straightforward garage-rock up to and including the fifth track (a spot-on cover of the Velvet's "Sister Ray"), at which points things change. Track six, "Excavation of Tremper Mound," is unabashed noise rock, an enjoyably disorienting number that includes raga-esque rhythms and extra-terrestrial screeching. After that, Rep and Co. delve into their unique brand of shredded pop-psych: there's "Addictions of Choice," which features a flute (!), and the weirdly dark "H. M. My Mind," on which Mike discovers the synthesizer, and to great effect. Then there are the covers: the previously mentioned "Sister Ray," a version of the Strapping Fieldhands' "In the Pineys," one of the 13th Floor Elevators' "She Lives in a Time of Her Own," and a take on "Creature with the Atom Brain" by Roky Erickson. But regardless of the artist Rep is channeling or the genre he is interpreting, all of the songs are built around one very important constant: Mike Rep, and his wonderfully insane understanding of rock music. He's the sort of artist that takes the common and the commodified and manipulates it in such a way that it sounds completely, wildly novel. Each and every track herein is testament to that. One of the most exciting records I've heard in some time, and, as such, highly recommended.
-Jacob Kaplan
Soft Machine
Softs
Esoteric Recordings
$9.99
Listen & Buy
The kind of polished, highly-technical all-instrumental jazz fusion that this album mainly consists of is anathema to many in the post-punk era, where spirited amateurism equals endless street cred. It's actually highly listenable for adventurous, open-minded folks although newcomers to the Soft Machine are strongly advised to start with the classic first three albums. For Softs aficionados, it's fascinating, especially if the names "Return to Forever" or "Weather Report" don't automatically send you running for the exit (hey, it's OK to be exceptionally proficient on your instrument, but let's keep that just between us!). All of the original members of the band had departed by this point, but the performances here are spirited and creative enough to make it worth investigating...you may be surprised.
-Greg Caz