Other Music Digital Affiliate Program
We are very excited to be launching our new Affiliate Program. You can earn money by sending your web traffic to Other Music Digital for downloads. Click here for more details.


Win Tickets to Holly Miranda: Live in the Guest Apartment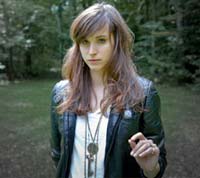 Baeblemusic, XL Recordings, Brooklyn Vegan, and Littlefield are pleased to announce they'll be taking The Guest Apartment -- Baeble's captivating performance video series -- to the public with a unique performance and video shoot of New York singer-songwriter Holly Miranda on Wednesday, July 7. A limited number of $8 tickets are for sale here, but Other Music is giving away two pairs of passes to this exclusive show, which you can enter for by emailing giveaway@othermusic.com. We'll notify the two winners this Friday.

Wednesday, July 7
Doors at 7:30PM
Littlefield: 622 Degraw Street Brooklyn
This Week's Free Song Download


Ensemble Economique
With You, At Brandy Creek
Amish Records
FREE
Listen & Buy
Free Download of "With You, at Brandy Creek," off of Ensemble Economique's forthcoming Standing Still, Facing Forward, out Tuesday, July 6 on Amish Records. The nom de plume of Starving Weirdos' Brian Pyle, Ensemble Economique's new LP sees this composer truly coming into his own, Pyle sculpting gorgeously dramatic and uniquely organic sonic-scapes from found sounds, field recordings, synthesizers and chamber instruments. Fans of the deep listening of Pauline Oliveros as well as the ambient sounds of the Touch label will want to make note -- one of the year's most notable records to come out of the West Coast experimental scene.
This Week's Featured Releases


Paul Dunmall, Chris Corsano
Identical Sunsets
ESP Disk
$9.99
Listen & Buy
It's great to see the ESP-Disk catalogue still sprouting fine, feral limbs like this one. This being the document of a head-on collision between Messrs. Chris Corsano (mostly on drums) and Paul Dunmall (mostly on tenor sax), recorded live before a sloshed audience in Cheltenham, England, in 2008. If you've devoted a minute of your time to the pursuit of freedom-sound over the past decade or so, then Corsano's name is probably already scalded into your gray matter (if it's not inked across your knuckles), but Dunmall, who's been around since the '70s and has played with folks like Alice Coltrane and Evan Parker, is fairly heavily undersold. Which is odd, 'cause herein he pretty much nails it. The first track is a real highlight -- though you can't go wrong -- with Dunmall powering through a clangor-less void on bagpipes, no less, while Corsano coaxes harmonic shimmer from a lonesome string. One could point to Parker's endless-breath streaming as a touchstone for Dunmall, but he also sounds kinda like a man in a kilt channeling Sun Ra at his most Moog-abusive, and who besides ESP might host that kinda action? The rest of the disc is all tenor/drums blitzkrieg, with Corsano occasionally breaking out the bows and mouthpieces and opening up zones of wonderful confusion, and Dunmall taking big gulps of the former's ample energy-spew. Classic free jazz catharsis that's as much its own beast as any ESP side, I hope this isn't the last issue from this pair, because together they rush like blood and shatter time, easy.
-Aaron Kaplan
Patty Waters
You Thrill Me: A Musical Odyssey 1960-1979
Water
$9.99
Listen & Buy
A subtle and beautiful collection of unreleased material from the legendary avant-garde jazz vocalist, Patty Waters. Compiled by the enigmatic singer herself from her personal archives, the tracks' origins vary, but the majority are from the early-'70s, a few years after her mid-'60s ESP records that made her name (the dates span from the early '60s to the late-'70s). Waters' stunning and serene voice was strangely matched by her singular artistic vision; she was a skinny white hippie who could sing the standards with the depth and passion of Billie Holiday, but also pushed the limits of jazz with her free-form vocal freakouts. The 15 tracks here focus more on her mellow side, lovely ballads with spare, simple arrangements for voice and piano that generally are as strong and moving as anything on her two classic records. Many of her own compositions appear alongside standards by Holiday, Carmichael, and Rodgers and Hart, among others. And for something REALLY freaky, enjoy Patty's 1964 Jax Beer commercial that opens the disc.
-Josh Madell
Peter Thomas
Moonflowers & Mini-skirts
Marina Records
$9.99
Listen & Buy
This Berlin-based composer/arranger scored music for dozens of German Pulp Fiction-styled B-movies in the mid-'60s. Like Gert Wilden and Esquivel, Thomas has gained a cult following over the years from many rock musicians and producers drawn to his eccentric arrangements and he has been sampled by everyone from Pulp to Dangermouse. What sets Thomas apart from his contemporaries is his subtle use of electronics and his classy Mancini-esque exotica arrangements, usually beefed up by a smokin' rhythm section. This album collects odds and ends of previously unreleased soundtracks to a couple of old German party movies from the '60s. The songs are definitely more on the upbeat "go-go groovy" side of things, but it's all great fun to listen to and the musicianship is awesome.
-Duane Harriott
Acid Mothers Temple & The Melting Paraiso U.F.O.
Mantra of Love
Alien8 Recordings
$9.99
Listen & Buy
I've always resisted buying studio albums from bands that have blown me away live. It's just not the same -- the sheer volume, the energy, the crowds' reaction, jet-black hair flailing, guitars swung, beer and cigarettes aplenty -- and it's rare that it can be recreated on an album. With 2004's Mantra of Love, Acid Mothers Temple don't try to capture the much-reputed sonic freak-outs of their live show. Instead, otherworldly bleeps and drones float through Cotton Casino's eerie vocals on both of the album's tracks, followed by moments of blasting psychedelic rock. The first cut is a traditional Occitan cover that harkens back to the mellower La Novia from 2001. Driven by Cotton's melodies, "La Le Lo" meanders through layers of hippy drones until about six minutes into the song, where guitarist Kawabata Makoto cranks it up. Rhythms become faster, the xbass steps in and out of the swarm, and spacey tones and synth washes transform the Occitan piece into an Acid Mothers Temple psychedelic swirl. The last slurps of song, varying in gulps of chaos, are long sips, slowed into drones and back into the original melody and Casino's vocals, then fading out with a lighter variation on the Occitan tune. "L'Ambition dans le Miroir" evokes the spacey tones once more, but this time with more familiar, tangible guitar lines -- the stuff that bands like Godspeed You! Black Emperor borrowed from and the classic sounds that make AMT the ones to study in Psychedelia 101. This is definitely one to have in the prolific catalogue of these Japanese psych-rockers.
-Lisa Garrett
Tuxedomoon
Half-Mute / Scream with a View
Crammed Disc
$9.99
Listen & Buy
An often-overlooked classic from Tuxedomoon. Though this San Francisco band came up through the new wave scene, they didn't neatly fit in, owing as much, if not more to experimental and chamber music. Spearheaded by two electronic music students, Blaine L. Reininger and Steven Brown, Tuxedomoon's early work was infused with a deep, eerie sense of romanticism, the violin and sax often taking as much of a prominence as the guitar, organ and drum machines. Their first album, Half Mute, would find release on the Residents' Ralph label in 1980, which, given Tuxedomoon's theatrical multi-media live shows, was a perfect fit. Songs like the rumbling, detached pop of "What Use" recall Bowie's Eno-era, but the group also hovers in more avant territory with tracks like "Fifth Column" or the impressionistic "James Whale," and to a certain degree parallels the minimalist approach of Human League's early work with "59 to 1." In 1981, Tuxedomoon would release one more full-length on Ralph Records, Desire (which is another must-have in the band's discography), before moving to Europe where they would take on ballet and film scores and endure several changes in the line-up. Also included in this reissue is the band's 1979 EP Scream with a View.
-Gerald Hammill
The Travellers
Black Black Minds
Pressure Sounds
$9.99
Listen & Buy
Just a few years before legendary Waterhouse producer Prince Jammy introduced digital rhythms and forever altered the course of reggae, he was busy working with two vocal harmony groups: Black Uhuru and the Travellers. The former went on to become international reggae stars while the latter would be relegated to obscurity and cult status. Why? I'm not so sure, but what I do know is that this collection of 16 rare sides shows a group at the top of their game. Beautifully woven harmonizing, led by Neville 'Lerch' Hoffman's nasally voice, perfectly complements the jangly rhythms of their topnotch band. (The group's line-up includes the Aggrovators with Sly and Robbie, Tommy McCook, and Ansel Collins.) This set also features some wonderful dub versions that showcase Jammy's impressive studio skills. While many of these songs have never been widely available they somehow sound familiar and immediate, in a good way.
-Geoff Albores
Serge Gainsbourg
Aux Armes et caetera
SSC
$15.99
Listen & Buy
Only a raconteur such as Serge Gainsbourg could have gone to Jamaica to combine French pop with the classic reggae production of Sly and Robbie, and actually make it work. On this deluxe reissue, the seductively dubby vibe Serge lays down is expanded to include bonus dubs not provided on the earlier release, plus a bonus disc of DJ versions. (Also available, double-disc version of Gainsbourg's Mauvaises Nouvelles Des Etoiles album, recorded with the same reggae all-stars.)
-Michael Klausman
Isaiah Owens
You Without Sin Cast the First Stone
CaseQuarter
$9.99
Listen & Buy
Released in 2004, Isaiah Owens' debut album at the age of 69 is idiosyncratic gospel at its finest; and if the notion of idiosyncratic gospel strikes one as odd, just listen here. Owens has long been a gospel singer, but didn't pick up the guitar until he was in his 50s. He is entirely self-taught and plays like no one I've ever heard before. He is clearly not afraid of the discordant note; he jabs and twists those strings for the maximum amount of emotional impact. Something about his playing makes me think of no wave guitar players from the late-'70s and early-'80s, which would be about when he picked the instrument up. But where their notes were let loose in pursuit of artful posturing, Owens' loud angular strumming screams nothing but the utmost conviction unto the Lord. His voice is as deeply soulful as you'd expect it to be after singing gospel for 40-years. Many of these tracks were culled from gospel radio programs he appeared on in Alabama over the last few years. Strikingly original, Owens is an amazing discovery who certainly deserves to be heard well beyond whatever radius those radio signals are able to reach.
-Michael Klausman