Other Music Digital Affiliate Program
We are very excited to be launching our new Affiliate Program. You can earn money by sending your web traffic to Other Music Digital for downloads. Click here for more details.


Other Music & Dig For Fire's 2010 SXSW Lawn Party Line-Up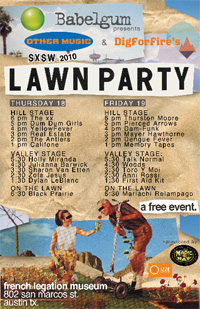 We are very excited to announce the line-up for our third annual SXSW Lawn Party, which we'll be presenting with our friends, Dig for Fire and Babelgum. Once again, we're hosting two free days of music at the French Legation Museum, a beautiful outdoor space off the beaten path of 6th Street, its rolling lawns the perfect respite from the sensory overload of the main drag. As you can see below, this year's line-up is extraordinary, so if you are in Austin for SXSW, please do join us on the Thursday and Friday afternoon of the music festival. And whether you can stop by or not, Dig For Fire will be filming the performances and you'll be able to see all the highlights on OtherMusic.com and Babelgum.com.

THURSDAY, MARCH 18
HILL STAGE: Califone (1PM), The Antlers (2PM), Real Estate (3PM), YellowFever (4PM), Dum Dum Girls (5PM), The xx (6PM)
VALLEY STAGE: Dylan LeBlanc (1:30PM), Zola Jesus (2:30PM), Sharon Van Etten (3:30PM), Julianna Barwick (4:30PM), Holly Miranda (5:30PM)
ON THE LAWN: Black Prairie (6:30PM)

FRIDAY, MARCH 19
HILL STAGE: Memory Tapes (1PM), Dengue Fever (2PM), Mayer Hawthorne & the County (3PM), Dam-Funk (4PM), Pierced Arrows (5PM), Thurston Moore (6PM)
VALLEY STAGE: First Aid Kit (1:30PM), Anni Rossi (2:30PM), Toro Y Moi (3:30PM), Woods (4:30PM), Talk Normal (5:30PM)
ON THE LAWN: Mariachi Relampago (6:30PM)

FRENCH LEGATION MUSEUM: 802 San Marcos Street Austin, TX
1PM to 7PM both days
Sponsored by Magic Hat | IZZE


This Week's Free Song Downloads

White Hinterland
No Logic
Dead Oceans
$0.00
Listen & Buy
Free song download of "No Logic," taken from White Hinterland's new full-length, Kairos, out next Tuesday, March 9 on Dead Oceans. Eschewing the '70s-influenced jazz-folk leanings of her previous album, Casey Dienel's gorgeous, lulling melodies are still the center of focus but here they float above gently restrained electronic production and bits of live instrumentation. What results is all at once warm, organic and spacious -- an album that fans of Nite Jewel and The xx will love.
JJ
Let Go
Secretly Canadian
$0.00
Listen & Buy
We were big fans of jj's debut full-length, nš 2, last year, in fact, we couldn't keep the album in stock until it was re-released on Secretly Canadian. Aptly titled nš 3 , the Swedish group's new album comes out next Tuesday, March 9, and it's another great, breezy set of Balearic-kissed indie pop, featuring perfectly twee melodies that could have come from your favorite Sarah Records release. Here's a sneak peek, via this free download of "Let Go."
Featured Downloads of the Week

The New York Art Quartet
The New York Art Quartet
ESP Disk
$9.99
Listen & Buy
More of a four-headed apparition than a quartet, Roswell Rudd (trombone), John Tchicai (Alto), Lewis Worrell (double bass), and Milford Graves (percussion) -- with recitation by Leroi Jones (nee Amiri Baraka) -- were something akin to rain. They seemed to snatch their sounds out of vapor, only to evaporate as quickly as they took shape. The group recorded three albums during their brief existence (1964-65), and this date for ESP-disk happens to be their best. Roswell Rudd and Milford Graves are in particularly incomparable form here, the former speaking in tongues through his trombone, the latter punctuating Rudd's telling with vivid color and ghostly dexterity. The NYAQ proved a stepping-stone for all of its principals, but rarely (ever?) would any of them match the spiritual synergy of this ESP session. NYAQ is one of the most deeply probing and expressive titles in the ESP jazz catalogue, and an absolutely essential addition to your jazz home library.
-Matt Hanks
Som Okey 5
Som Okey 5
Som Livre
$9.99
Listen & Buy
This album is a quirky-yet-perfect foray into loungey international late-'60s pop through a Brazilian lens. Led by early-'60s organ veteran Celso Murilo, this five-piece does sublime grooving covers of assorted Jorge Ben and Antonio Adolfo tunes and the like. The album is a primer in both soft-pop '60s styles and the funkier samba-based pop songwriting of the era that continues to fascinate and make collectors part with large sums of cash. You can approach an album like this from an "ironic" perspective, or simply revel in the superior songwriting on display here as well as the arranging acuity. Oh yeah, it's awesome for sample-fishing too...
-Greg Caz
DVA
Natty / Ganja
Hyperdub
$1.99
Listen & Buy
A great slice of ethno-tech, DVA's debut single for Hyperdub integrates a percussive Jamaican groove into the dubstep template and it really hits the spot. During "Natty," DVA peppers the bubbling synths and wobbling bass line with some hand percussion and a water-drum hollowed high-end thump. The flip, "Ganja," is where things get more bleepy, with laser synths shooting through the bass and shuffling beat.
Babe Rainbow
Shaved EP
Warp Records
$5.99
Listen & Buy
New Warp signing from Vancouver, Babe Rainbow (a/k/a Cameron Reed) offers up this cavernous, mechanic excursion, deconstructing dubstep's rhythm into skeletal patterns that twist and turn and flip and flop on top of each other. The music on the Shaved EP would sit nicely in the same darkened corner of the room as past dubby and dirty industrialists like Meat Beat Manifesto, Pole and Cabaret Voltaire. "Tummy Sticks" is probably one of the more light-hearted tracks, however, with an almost blissful synth line, smeared bass and what I guess to be a very filtered thumb piano. All in all, a nice left of field grouping of tracks featuring minimalist beats and a heavy industrial tinge.

Eskmo/Eprom
Hendt/Land and Bones
Warp Records
$1.99
Listen & Buy
Another debut from Warp by way of this split single from San Francisco's Eskmo and Eprom. With guest vocals from Swan, Eskmo's "Land and Bones" features cut-up synths, a slow and deep bass line, and lots of nice poppy accents -- the track kind of reminds me of a heavier Little Dragon or The xx. In contrast, Eprom's "Hendt" is more of a traditional dance floor jam. Dizzying synthesizers open up to a steady, almost hip-hop groove, and soon after full-on arcade-gone-wild bleeps and a bouncy bass come to the forefront. It's nice to listen to some American-made dubstep for a change, and I'm sure we'll be hearing more from these two artists.
-Daniel Givens
COH + Cosey Fanni Tutti
COH Plays Cosey
Raster-Noton
$9.99
Listen & Buy
COH (Raster-Noton, Mort Aux Vache, etc.) collaborates with Throbbing Gristle/Chris and Cosey/Coum International icon Cosey Fanni Tutti with husband/producer extraordinaire Chris Carter doing sound engineering honors and making sure there's no hanky panky going on. Here COH is essentially pulling a Matmos/AGF on her voice, collected from diary-like vocal pieces entrusted to him by Cosey, with some lines added in response to Cosey by COH. Whether stretched or micro-sampled, Cosey's words (sung and spoken), breaths, whispers and, at one point, yells are the only sound sources used by COH. The results are a strange combination of glitchy, edgy starkness and blush-inducing intimacy. Songs and experimental tracks are reminiscent of Panasonic's collaboration with Alan Vega; there's plenty of space around the bits and pieces, which are then layered to the point of sampleriffic chaos, with repeated phrases, but with bits of Cosey's childlike melody peeking through here and there. "Near You" has an almost violent flutter in it that feels like mid-'90s Einsturzende Neubauten. "Lost" has the yell I was talking about. "Mad" is probably the hit of the album. Let's be honest, "F**k It" is an embarrassing clunker while "Inside" has the IDM phone sex vibe we knew was coming. Up next: Cosey plays COH.
-Scott Mou