Other Music Digital Affiliate Program
Join Other Music's Affiliate Program and earn money by sending your web traffic to Other Music Digital for downloads. Click here for more details.



Win Tickets to Jenny and Johnny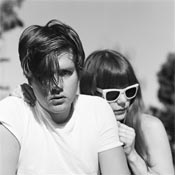 It's CMJ week which means no shortage of great shows, but you'll want to be at Irving Plaza tonight (Tuesday, October 19) for one of the must-sees, with Jenny and Johnny (a/k/a Rilo Kiley's Jenny Lewis and boyfriend Jonathan Rice) who will be playing a set of their infectious, sunny, and slightly twangy pop songs, along with Wild Nothing, Times New Viking, Happy Birthday and La Sera. Didn't get a ticket or don't have a badge -- then you'll want to send an email to giveaway@othermusic.com, as we've got three pairs of tickets up for grabs! We'll notify the three winners at noon today.

Tuesday, October 19
Irving Plaza: 17 Irving Place NYC
Underworld Ticket Giveaway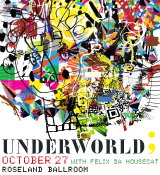 Underworld have just released their eighth full-length, Barking, and are performing at the Roseland on Wednesday, October 27. Other Music has a pair of tickets to see these electronica luminaries, and all you have to do to enter is email contest@othermusic.com. We'll notify the winner this Friday.

Wednesday, October 27
Roseland Ballroom: 239 West 52nd Street NYC
On-line tickets available here
This Week's Free Downloads

Twin Shadow
At My Heels
MRI
FREE SONG
Listen & Buy
This week we're offering a preview of Twin Shadow's debut full-length, Forget, via this free download of "At My Heels." The nom de plume of George Lewis Jr., this Brooklyn-based songwriter's soulful, dreamy recordings seem not of this era, pulling from influences like early Prince and Arthur Baker-produced New Order all the while retaining a timeless sensibility. The album is also now available on Other Music Digital and featured with a full review, a few titles below.
A Sunny Day in Glasgow
Autumn, Again
Mis Ojos Discos
FREE ALBUM
Listen & Buy
A Sunny Day in Glasgow follow-up last year's Ashes Grammar album with the aptly named Autumn, Again. It's here in which we learn that the tumultuous sessions that led to Ashes (complete with a major line-up change) were equally prolific, with bandleader Ben Daniels not only recording enough material for one album, but also the Nitetime Rainbows EP, and now, 11 more tracks have surfaced. Where Ashes found the group placing a heavier emphasis on the "experimental" side of their gauzy celestial pop, with tracks often connected by reverb-drenched interludes of orchestrated arrangements, backwards instruments and quick bursts of electronics, Autumn, Again is more song-focused. That's not to insinuate, however, that they've watered down any of the swirl -- the guitars still chime, the electronics still shimmer, and layers of singer Annie Frederickson's yearning melodies still dance from one speaker to the other.
But we also hear the band playing with elements not found on previous releases; "Sigh Inhibitionists (Come All Day with Me)" glides over a motorik, Kraut-inspired rhythm for its first minute or so before opening up into a full-on dream-pop opus, with sheets of guitar and Frederickson's voice raining over pulsing electronics and programmed drums. Then there's "Violet Mary Haunts Me or Loss of Forgetfulness on Renfrew Street," in which the group eschews their guitar wash for a bed of synths, a la Faith-era Cure, riding atop a minimal techno beat. ASDIG's greatest strength continues to be the fact that while they are clearly indebted to Cocteau Twins, Loveless, and various other shoegaze touchstones, that's only part of the picture, with the group absorbing influences as far and wide as Arvo Part and Kompakt Records. For a genre that has spawned so many offspring who fall well short of the originators, A Sunny Day in Glasgow's dream pop is as original as it is stunning, and while this album may not cost a single penny to download, it is some of the band's best and most immediate work yet. Autumn, Again will be free on Other Music Digital through the end of the year, and for our vinyl buyers, we'll have limited-pressed LP copies of this for sale at the shop later this week.
Win a pair of tickets to one of A Sunny Day in Glasgow's upcoming NYC shows next week, on Tuesday, October 26 at Brooklyn's Knitting Factory and Saturday, October 30 at Mercury Lounge. Email tickets@othermusic.com and please list the performance you'd like to attend. We'll notify the two winners this Friday.
-Gerald Hammill


This Week's Featured Downloads
Avey Tare
Down There
Paw Tracks
$9.99
Listen & Buy
While the anticipated solo debut full-length from Animal Collective's Avey Tare doesn't officially hit store shelves until October 25 (in the physical world at least), it is, however, now available for download. Or...if you're in New York City, swing by Other Music where we'll be throwing a listening party this Wednesday, October 20 from 5 to 7PM. We'll have vinyl copies of Down There for sale that evening and Avey Tare himself will be on hand to personally sign your copy! We don't want to give too much of a spoiler out until after the party, but we will say that Down There is a great visceral set of songs, the gently hypnotizing melodies seemingly floating through the same waters as the crocodile that was Avey Tare's inspiration for the record.
Mark McGuire
Living with Yourself
Editions Mego
$9.99
Listen & Buy
Parallel to his work with the great neu-kosmiche trio Emeralds, guitarist Mark McGuire has maintained a busy solo career as well, with a number of releases charting his constantly refined approach to the six-string. Sans the synths of his usual bandmates, McGuire's work basks in an almost peculiar cleanliness and stark, earnest emotional resonance, building up layers of clean tones and looped notes into eventual waves of beatific drift. Living with Yourself, his latest (and first for Editions Mego), continues the trajectory he's established across his plethora of cassette and CD-R releases, presenting a series of sweet, genteel ruminations for guitar, electronics, and field recordings that take reflections on familial relationships as their starting point.
Though ostensibly at home on a more experimental imprint, McGuire's latest sticks out like a hammered thumb when compared against some of his labelmates, with his instrumental surfaces buffed to an almost New Age-y sheen, and an unabashed melodicism running through the chiming strings of tracks like "Clouds Rolling In" and the poignant, reverberant "Brain Storm (for Eric)." Touching and sincere (even for a cynical jerk like me), McGuire weaves in recordings of his family's interaction to "The Structure of Recollection" and "Brothers (for Matt)" giving the tracks' easygoing builds a distinctly homespun and pensive quality. Later tracks like "Clear the Cobwebs" find the guitarist dealing with emotional and sonic complexity, as guitars lock and cross in intricate patterns. It's definitely a little bit of a switch-up for those expecting that exact same sort of textures that Emeralds tends to explore, but McGuire more than holds his own here as examines some obviously personal territory and leaves behind something truly affecting.
-Michael Crumsho
Twin Shadow
Forget
MRI
$9.99
Listen & Buy
George Lewis Jr., a/k/a Twin Shadow, was born in the Dominican Republic, grew up in Florida and is currently a Brooklyn resident. A standout of the current BK scene, he has already remixed Surfer Blood, Hooray for Earth, and Lemonade. His debut full-length, Forget, is produced by Grizzly Bear's Chris Taylor with additional production by Prince Language. Filled with tracks reminiscent of so many great non-hit songs of the '80s, the album plays like a nostalgic mix-tape of Lewis' favorites -- think the drum machine punk-funk of early Prince, the dreamy electric pop of Arthur Baker-produced New Order, and even the moody soulful indie vibe of early TV on the Radio. (There are even moments where it seems like he's singing over a Section 25 instrumental.) His infectious hook-filled bedroom pop is so emotional that every phrase seems like a lover's plea. Lewis' refrain of "You're my favorite daydream, I'm your famous nightmare" sinks into your head during the slow-burn rock number "Castles in the Snow;" it's one of my personal favorites which I can't stop playing. (The punk/homoerotic video is definitely worth YouTubing as well.) Lewis has a talent for hitting that spot where decades collide, emotions connect, and genders dissolve, yet sexuality remains. This is another contemporary time capsule of many years past, its pointed and purposeful production technique creating a sense of timelessness throughout. If you can't get enough of the onslaught of new-school dream pop, this will go a long way toward satisfying the craving. Recommended.
-Daniel Givens
Bruce Haack
Farad: The Electric Voice
Stones Throw
$9.99
Listen & Buy
Right now is as good a time as any to get introduced to (or rediscover...I hadn't listened in years) the electronic wizardry of Bruce Haack. The man's musical resume is quite incredible, and his longtime love affair with the synthesizer led him all sorts of places, from theater scores and musique concrète composition to Kraft and Goodyear commercials to a series of amazing self-released LPs of robot music for children, psychedelic concept albums and some dark and tortured experimental recording (Haackula, anyone?), and somehow he topped it all off in 1982 with a 12" on Def Jam called "Party Machine." Stones Throw's Farad: The Electronic Voice is a great overview's of Haack's recordings from the '70s and '80s, kicking off with "Electric to Me Turn," a track off his best-known "rock" album, the wonderfully twisted 1970 acid opus Electric Lucifer, that sounds like a bizarre and absolutely incredible marriage of Raymond Scott and Syd Barrett. As far as electronic psychedelic music goes, this, along with White Noise, is its very high point.
Elsewhere, there's a 50/50 split between wonderful trippy electronic pop and more abstract pieces, where he showcases his Moog skills and use of effects (a lot of Haack's equipment was homemade which makes the sounds he coaxed out of his machines even more incredible), and also introduces the Farad, an early prototype of the today's vocoder. Perhaps the greatest quality of Bruce Haack's work though, is the human element that his music possesses. Despite the fact that he uses exclusively (analog) electronic equipment, there's a warmth and soul to everything that's unsurpassed. It might not be man and machine in perfect harmony, but it's certainly one of the most remarkable musical rides the two have taken together. Haack has remained somehow under the radar all these years, while being name-checked by everyone from Luke Vibert to Beck to Cornelius and the Beastie Boys, and anyone into electronic composition, psychedelia, Silver Apples, Broadcast, electro, Raymond Scott etc., needs this.
-Andreas Knutsen
The Girls at Dawn
Call the Doctor
Norton Records
$9.99
Listen & Buy
Following a couple of short-players for Hozac and Captured Tracks, Norton serves up the debut full-length from this Brooklyn-based all-female trio, who nicely balance jangly, minor-key garage-pop with reverb-drenched girl-group harmonies and hooks, and a little bit of psychedelia. Fans of Dum Dum Girls and Best Coast won't want to miss this.