Other Music Digital Affiliate Program
Join Other Music's Affiliate Program and earn money by sending your web traffic to Other Music Digital for downloads. Click here for more details.


Private tUnE-yArDs Listening Party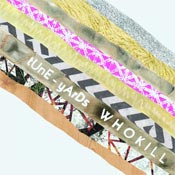 This Tuesday evening, 4AD is throwing an intimate, private listening party in NYC for tUnE-yArDs' forthcoming new album, w h o k i l l, which comes out on April 18th. Other Music has three guest spots that we're giving away. There'll be two album playbacks with free drinks, and if you'd like enter for a pass, email: giveaway@othermusic.com. We'll notify the three winners on Monday afternoon, and include full details.




This Week's Free Downloads

Telekinesis
Car Crash
Merge Records
FREE SONG
Listen & Buy
Free download of "Car Crash," off Telekinesis' new album, 12 Desperate Straight Lines, out Tuesday, February 15, on Merge Records. Michael Benjamin Lerner and his band's latest full-length is noisier and more kinetic than the self-titled debut from 2009, with buzzing power chords and driving beats propelling this dozen-track set. Indie pop doesn't get much catchier than this, but it's deceptively infectious -- as the album title suggests, Lerner delves into life's darker moments. Still, downer music this is not.

For our New York City store customers: we've got an exclusive prize pack for one lucky person. Follow @_TELEKINESIS on Twitter for more details to come.
East River Pipe
Cold Ground
Merge Records
FREE SONG
Listen & Buy
Another free track courtesy of Merge: "Cold Ground" off of East River Pipe's new album, We Live in Rented Rooms, out this Tuesday. F.M. Cornog has been crafting achingly beautiful music out of his bedroom for two decades, painting vivid pictures of desperate and downtrodden characters in gorgeous, highly personal ways. While the songs and arrangements here are fuller in production than his early four-track recordings, none of the intimacy has been lost and We Live in Rented Rooms is quite simply, timeless.
Silk Flowers
Small Fortune
PPM Records
FREE SONG
Listen & Buy
Free song download of "Small Fortune," off Silk Flowers' latest full-length, Ltd. Form, (out now). Their new album finds the group trading the lo-fi hiss and reverb of their debut for a full-spectrum production, with Aviram Cohen's low baritone croon more in the forefront during the vocal songs, while brittle keyboard lines and guttural samples coast on jaggedly forceful drum machine rhythms. Ltd. Form is a real indicator that the places for Silk Flowers to go in the future are without limit.
This Week's Featured Downloads
Kip Hanrahan
Desire Develops an Edge
American Clave
$9.99
Listen & Buy

Kip Hanrahan is a New York composer/producer/percussionist who founded the American Clave label in the late 1970s, documenting a unique blend of downtown styles that deeply concentrate the concepts and sounds of the NYC melting pot. Hanrahan barely performs on his own records; instead, he acts as maestro or much like a film director, assembling a top-notch cast of characters and having them play his complex arrangements, overflowing with poly-rhythms and multiple harmonies, drawing from the musical heritages of Cuba, Haiti, Brazil, Argentina, and even US/UK rock music. He has worked with everyone from tango master Astor Piazzolla to Jack Bruce of Cream, renowned jazz producer and saxophonist Teo Macero, and even New York no wave band DNA, whose 12" EP A Taste of DNA was one of American Clave's first releases.
On Desire Develops an Edge, Hanrahan's second album, he directs an ensemble that includes jazz musicians like Steve Swallow, Teo Macero, Jamaaladeen Tacuma, and John Stubblefield, Latin musicians including Jerry Gonzalez, Puntilla Orlando Rios, and Milton Cardona, rockers Arto Lindsay of DNA and Feelies/Golden Palominos drummer Anton Fier, and Haitian guitarists Elysee Pyronneau and Tiplume Ricardo Franck, among others. Topping off the arrangements are the vocals and bass playing of Jack Bruce, who would go on to a long and fruitful collaborative relationship with Hanrahan. Bruce has never sounded better; he injects raw feeling and delicate sensitivity into Hanrahan's emotionally complex lyrics, which balance Borges-like descriptive observations of minute fragments of time with socio-political commentary and sexual complexity. The band, quite simply, are incredible, trading off poly-rhythms, weaving plenty of tiny interlocking fragments together into rich tapestries of sound that honestly have no equal in terms of the quality of musicianship, the diversity of influence, and the strength of collaboration. They create lively, sun-soaked dance tunes, soul-searching laments, soft bossa nova whispers and gut-busting, fist-clenching snapshots of despair -- sometimes in the course of one song. To hear Lindsay's no wave 12-string skronk used as a percussive and textural accompaniment to interlocking Santeria drums, fiery Latin brass, and Haitian compass guitar is brilliant, and that's what makes the album such a success -- Hanrahan knows his players' strengths, he knows how to write for them and where to place them, and he understands the effect those experiences will have on the players at the end of the session.
This is a desert island album for me; it changed the way I heard music and approached making it, it raised a bar quite high and taught me that it's still possible to create records that challenge and excite the notions of genre by blending the languages of many into one unified form of communication. Absolute highest recommendation.
-Mikey IQ Jones
My Winter at Sea
Resonance/Still
My Winter at Sea
$1.99
Listen & Buy
Sounds of water and frosty ambience assure that My Winter at Sea is aptly named. The nom de plume of Daniel Wainright, his Resonance/Still EP evokes the work of Flying Saucer Attack at their peak. This music is all about atmosphere and the Tampa musician is quite successful in creating a barren and, indeed, cold landscape -- it's not the kind of sounds that one normally associates with the sunshine state. There's a real sense of isolation throughout the EP, and as all four tracks are linked by field recordings of splashing water, the program feels conceptual and well thought through. The drum-less palette lets the bass guitar define a real sense of space, with notes and phrases hanging in the air with an ominous aura. Here's hoping he doesn't drown or encounter any polar bears before recording a full-length.
-Marc Moeller
Colin Newman
Commercial Suicide
Crammed Disc
$9.99
Listen & Buy
Commercial Suicide was the fourth solo album by Wire frontman Colin Newman, released in 1986 shortly after the reformation of the group on which Newman had built his reputation as a sharp writer of obtuse but concise songs which fragmented the traditional structures of what was known as "punk" music. Newman's first three solo records were logical extensions of Wire's musical innovations, recorded in the rockist fashions with which he found familiarity, but Commercial Suicide was an entirely different beast. Guitars are traded for European orchestral/chamber ensembles playing hypnotic, minimal pulsations blanketed with gauzy synth textures and the throbbing bass work of Minimal Compact's Malka Spiegel (who also happens to be Newman's wife). The record's title is both a tongue-in-cheek nod to the audience-alienating potential of the record's sound, but also references a more commercially accessible take on the sounds of Martin Rev and Alan Vega's Suicide project, which shows its influence on a few tracks.
The album, quite simply, is stunning; Newman's relaxed vocals hypnotize, and the arrangements are intoxicating, blending the textural explorations of Eno's Another Green World, Robert Wyatt's Rock Bottom, or the more sedate moments of John Cale's Paris 1919 with classical minimalism and the post-punk gothicism of groups like This Mortal Coil and Dead Can Dance, whose John Bonnar is one of the album's instrumental contributors. This is, hands down, my favorite of Newman's solo records, and dare I say it, even matches the glories of his most triumphant moments in Wire. This is the sound of an artist exploring new terrain most successfully, and while it's a shame that he never ventured back into this area on subsequent records, its solitary presence in his discography adds to its speciality. This version of the album also includes two cheeky bonus cuts which have Newman interviewing himself about the album's concepts and construction over a throbbing electronic soundscape -- in typical fashion, he gives you the vocal and instrumental versions. All in all, this is brilliance and sophistication of the highest order.
-Mikey IQ Jones