Other Music Digital Affiliate Program
Join Other Music's Affiliate Program and earn money by sending your web traffic to Other Music Digital for downloads. Click here for more details.


Upcoming Cate Le Bon In-Store Performance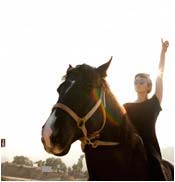 We're thrilled to welcome Cate Le Bon to Other Music, who will be performing an acoustic set this coming Monday at 8 p.m. The Welsh singer/songwriter's new album, CYRK, is a store favorite, a gorgeous, Gruff Rhys-approved album of fuzz and folky, modern psychedelic pop. We hope you can join us next week, we know this one will be special. Free admision, limited capacity.
Monday, February 6 @ 8 p.m.
Other Music: 15 E. 4th St. NYC


Win Tickets to Cate Le Bon at Mercury Lounge
Cate Le Bon will also be playing an early show at NYC's Mercury Lounge on Thursday, February 9, with Pigeons opening. Other Music is giving away one pair of tickets to the concert and to enter, email giveaway@othermusic.com. We'll notify the lucky winner on Monday.
Thursday, Feburary 9 @ 6:30 p.m.
Mercury Lounge: 217 E. Houston St. NYC

This Week's Free Downloads

Sharon Van Etten
Leonard
Jagjaguwar
FREE
Listen & Download Track
Over the past few years, we've seen Sharon Van Etten grow in leaps and bounds -- from the intimate dulcet tones of 2009's Because I Was in Love to 2010's more self-assured and rocking Epic. Her anticipated new long-player, Tramp, will be released on Tuesday and it's a powerful set, Van Etten's yearning voice delivering a wide range of emotions amidst incredibly nuanced, thoughtful arrangements, moving from fiery rockers to hypnotic, restrained slow-burners. Produced by the National's Aaron Dessner with guest appearances from members of Wye Oak, Beirut and the Walkmen, Tramp is a true breakthrough for Sharon Van Etten and marks the start of what will surely be an exciting year for this singer/songwriter and her fans. Enjoy this free download of "Leonard," courtesy of Jagjaguwar.
Starving Weirdos
In Our Way
Amish Records
FREE
Listen & Download Track
A free preview from Starving Weirdos' new album, Land Lines (out now on Amish), by way of this complimentary download of "In Our Way." Brian Pyle (Ensemble Economique) and Merrick Mckinlay welcome several guest players who flesh out this Northern California duo's dark industrial-folk improvisations with Middle Eastern rhythms, exotic strings, droning synths, processed sounds and ghostly vocals. The album moves down a loose, mystical path, where the medieval explorations of Dead Can Dance are lifted into the cosmos via Alice Cotrane's astral projections.
Hospitality
Friend of Friends
Merge Records
FREE
Listen & Download Track
Free download of "Friends of Friends," taken from the self-titled debut full-length from Hospitality. It's a solid album from this New York-based band who kept us waiting almost five years between the release of their first EP and this long player. Produced by Shane Stoneback (Sleigh Bells, Vampire Weekend) and Hospitality band member Nathan Michel, the group crafts breezy yet equally lush indie pop, with frontwoman Amber Papini's whimsical vocals falling on the quirkier side of Camera Obscura's Tracyanne Cambell. It all makes for a fun, sophisticated record that's deceptively intricate and nicely leftfield for the genre.
Imperial Teen
Runaway
Merge Records
FREE
Listen & Download Track
These indie rock stalwarts have never really been a prolific crew, but you know what they say: it's quality, not quantity. It's been about five years since we last heard from Imperial Teen but on Feel the Sound, Roddy Bottum and Co. break right out of the gate with album opener "Runaway," an infectious, propulsive track filled with their signature guy/girl harmonies, buzzing guitars and keys, and big production. (Available here as a free track download.) From there the pop never stops, with the group connecting the dots between the Rentals and New Pornographers, and occasionally riding down the same motorik trajectory as Fujiya & Miyagi.


This Week's Featured Downloads

Various Artists
The Alan Lomax Collection from the American Folklife Center
Global Jukebox
$9.99
Listen & Buy Full Album
It is impossible to overstate the cultural impact of folklorist and ethnomusicologist Alan Lomax's countless hours of field recordings documenting folk traditions from the American South, the Caribbean, Europe and North Africa. He was the first to record iconoclastic figures like Leadbelly, Mississippi Fred McDowell, Muddy Waters and Woody Guthrie; as a musicologist, photographer, disc jockey, television host and producer, Lomax fueled the folk revival of the mid-20th century, and in his latter years continued his work on preserving traditional music and culture, establishing the Global Jukebox database in the late-'80s, penning memoirs, and producing film and television documentaries, including the American Patchwork Series for PBS. To mark what would have been his 97th birthday this past Tuesday, Global Jukebox has released this download compilation, culled from the Library of Congress' American Folklife Center and curated by Don Fleming, Executive Director of the Alan Lomax Archive. (Yes, that Don Fleming.) These 16 selections -- including four previously unreleased -- were recorded in various locales across the world between 1947-82 and are an inspiring celebration of a man whose passion and vision will continue to be felt for centuries to come. For an excellent overview on Alan Lomax and his Global Jukebox project and label, we recommend reading this piece which ran in the NY Times earlier this week.
-Gerald Hammill
Purity Supreme featuring Leslie Winer and Christophe Van Huffel
Always Already
Ash International
$3.99
Listen & Buy

Leslie Winer was a New York City supermodel, writer and troublemaker during the 1970s and '80s who worked as William S. Burroughs' apprentice and who palled around with the likes of Basquiat. A jack of many trades, in 1993 she cut Witch, an incredible album of dub-infused downtown avant soul that fused together the likes of the Last Poets, Annette Peacock, Captain Beefheart and Public Image Limited into what has become, over time, my all-time favorite album -- it is truly without equal, often imitated but never duplicated. Winer's nicotine-stained voice is the glue that held Witch together, her stream-of-consciousness poetry striking comment on the politics of sex, war, commerce and community; it's a voice that you never forget once it has entered your skull, and it makes her relative disappearance after Witch so troubling. She made the occasional guest appearance on tracks by others, and has maintained one of the greatest, most artful blogs since the turn of the century, but never released a true follow-up; in 2010, the UK's Tapeworm label released an astonishing limited edition cassette of recordings Winer made in the 1990s (that tape was my favorite archival release of the year, by the way), and now, thankfully, Ash International has stepped up to the plate with Winer's first new recordings in what has been far, far too long.
Always Already is a four-song, 21-minute EP by Purity Supreme, a duo of Winer and French multi-instrumentalist Christophe Van Huffel, and it does not disappoint, taking her trademark atmospheres and clothing them in a dusty voodoo blues, her vocals more stained and dry as ever. Opener "Milk St." begins with Winer dryly intoning "It's nice to see you" in an inebriated leer, as a thick cloud of guitar feedback and the rattlesnake slither of percussion envelops her voice. The mood continues throughout, with slowly cycling loops of percussion and guitar rolling like tumbleweeds down the Bowery, augmented by the occasional sample or splash of sliding steel for accent. Winer's words, though, are the true star here, and it's highly recommended that you put on some headphones and soak them up; she has always been a brilliant, effective sculptress of matter-of-fact, casual scene setting, establishing an environment, a mood, and a mentality, dissecting its innards with vivid description. I've been unable to stop listening to this EP since its release; it's a phenomenal step forward that retains everything that made her such a startling figure from the start, and gets my highest possible recommendation. Welcome back, Leslie... it's nice to see you.
-Mikey IQ Jones

Octo Octa
Rough, Rugged, and Raw
100% Silk
$9.99
Listen & Buy

Brooklyn-via-New Hampshire producer Michael Morrison's "Let Me See You" 12-inch under his Octo Octa moniker was arguably the best release we heard last year from burgeoning electronic imprint 100% Silk. No disrespect to the label intended, but with its highlight track "I'm Trying" which dropped a jittery sample from Amerie's "1 Thing" onto a bouncy minimal house production, Morrison's debut felt so much looser and more confident than other Silk releases; the guy just seems to get it. Rough, Rugged, and Raw, a tour-only cassette release now available as a digital download, finds Morrison expanding on all the fronts that made his debut work so well. He still has the thumping, R&B-inflected deep house sound full of echoing pop samples and the bubbly, phased-out synth workouts reminiscent of early Warp Records techno down pat (think LFO or a more energetic Aphex Twin or Boards of Canada), but with more room to explore his ideas here than on his previous 12-inch, he constructs a set of tracks with a keen sense of momentum and a sound that successfully connects the past with more contemporary indie-electronic production. Add to that this set's rugged and raw sound -- it feels totally off-the-cuff, dirty, and effortless -- and you've got one of the most exciting listens from 100% Silk yet. Fans of Warp, Flying Lotus and his Brainfeeder label, or more contemporary house from Todd Terje, Morgan Geist, and the Italians Do It Better crew should definitely check this out.
-Chris Pappas
Karen Dalton
1966
Delmore Recording Society
$9.99
Listen & Buy

Now available on Other Music Digital. The posthumous excavation of rare Karen Dalton recordings continues with this latest installment from Delmore Records. I can safely say you shouldn't be worried about diminishing returns here, as this is a supremely intimate tape that captures Dalton and then partner Richard Tucker holed up in a remote cabin in the mountains outside of Boulder, Colorado one evening in 1966. The highlights are undoubtedly her renditions of a number of Tim Hardin tunes that heretofore had been undocumented. "Green Rocky Road" in particular is just stunning, as if you're listening to a cloud slowly unfurl across a landscape, effortlessly floating into infinity. There's also a devastating version of her classic "Katie Cruel" and a practically somnambulant version of folk standard "Cotton-Eyed Joe" that's impossible to not get completely lost in. Anything that expands our understanding of this incredibly enigmatic and troubled singer is a cause for celebration, and here's hoping that the well hasn't run dry yet as all these releases thus far have all been uniformly excellent.
-Michael Klausman
Phil Pratt
Dial M for Murder
Pressure Sounds
$9.99
Listen & Buy

Now available on Other Music Digital. Somewhat of an unsung hero in the reggae history books, Phil Pratt started out producing alongside Bunny Lee and eventually set up his own imprints in the early '70s (most notably Sunshot and Sounds United, on which he released records by such greats as Gregory Isaacs, Horace Andy and Ken Boothe). As opposed to those vocal classics, Dial M for Murder is a deep, heavy dub masterpiece recorded at Channel One studios in 1979 with an all-star line up of musicians that includes Sly & Robbie, Ansell Collins, Bobby Kalphat and Tommy McCook. This reissue sees Pressure Sounds tacking on an additional four tracks, and is a must for fans of Keith Hudson, King Tubby, and Lee Perry's deeper works.
-Andreas Knutsen