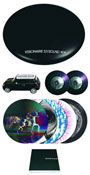 Click on image for larger views

$259.99 LPx5 w/CDx2+Vinyl Killer+Acrylic Case



VARIOUS ARTISTS
Visionaire 53 Sound
(Visionaire)

Since 1991, Visionaire has provided a forum for famous and up-and-coming artists, fashion designers, photographers, and other interesting and well known personas to contribute their own personal take on a specific theme, each edition's beautiful and unique packaging a work of art in and of itself. For their 53rd issue, the concept is Sound and Visionaire takes the form of a sleek acrylic dome that houses five 12" vinyl picture discs, each side designed by artists like Wim Delvoye, Robert Longo, Raymond Pettibon, Peter Saville, Cindy Sherman, and Mario Sorrenti. Even more impressive is the range of people, numbering over a hundred (a large percentage being of interest to the Other Music customer -- although hearing Antony's voice following a Fergie track did make my day), who contribute sound pieces. Obviously too many to mention in these pages, but here's a partial listing: David Byrne, Cat Power, Adrock, Ryuichi Sakamoto, Michael Stipe with Miguel Bose, Yoko Ono, Spank Rock, Dani Siciliano, Vashti Bunyan, Lalo Schifrin, Christian Marclay, Fiery Furnaces, Trevor Jackson, Dntel, Fantastic Plastic Machine, UNKLE, Pet Shop Boys, Fischerspooner, U2, Jose Gonzalez, Dave Eggers, Sunn O))), Gang Gang Dance, DJ Spooky, Christian Fennesz, Lee Ranaldo, Thurston Moore & Kim Gordon, Courtney Love, Laurie Anderson, Bebel Gilberto, Danger Mouse, Mike Skinner, Miss Kittin, Malcom McLaren, Liars, Dan the Automator, E.A.R., Monolake, the Go! Team, the Knife, Andrew W.K. and Panda Bear, plus fashion icons like Helmut Lang, Karl Lagerfeld, Alexander McQueen and more.

You'll also find a MINI Clubman "Vinyl Killer" record player housed inside the Visionaire 53 dome -- a pretty cool portable record player, the battery powered car plays the music as it drives along the groove of the LP -- plus a glossy booklet with artist credits and track info, and two CDs with the audio portion of the set (total running time just over two hours). Limited to 4000, this is a great collectible for that special audiophile in your life who has everything. [GH]

$10 shipping and handling charge for US orders. International customers, please email orders@othermusic.com for overseas rates before purchasing.